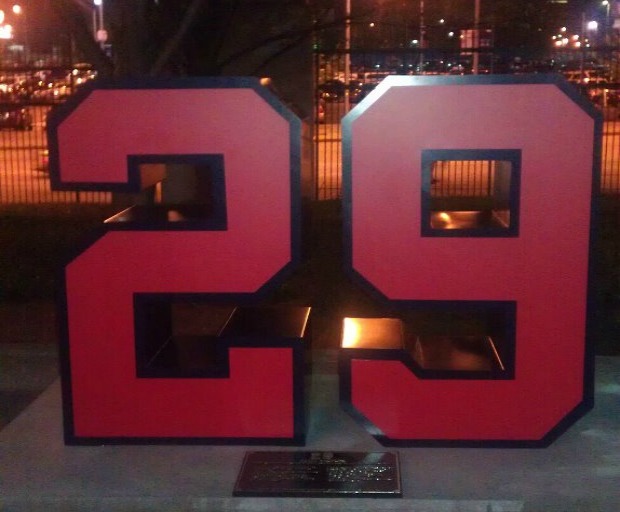 Brian Jones
The Braves franchise has had its share of memorable moments. From The Slide by Sid Bream in 1992 to Chipper Jones hitting his 400th home run, Braves fans will always remember where they were when they witnessed history.
Friday night marked another memorable moment for the Braves as the organization inducted John Smoltz into the Braves Hall of Fame and retired his number before facing the Toronto Blue Jays.
The fans came in droves as over 42,000 were in attendance to support the future Hall of Fame pitcher. Because this was a special occasion, countless other members of the Braves Hall of Fame participated in the festivities in a show of support. Legends such as Pete Van Wieren, Dale Murphy, Bobby Cox and four-time Cy Young Award winner Greg Maddux took part in the event.
"Words can't describe what I'm feeling to be part of something you never dream of as a kid," Smoltz said in his speech to the fans. "I always dreamed to play Major League Baseball, but not to be in this elite company."
Smoltz's number is now above the left field wall along with those of Cox, Maddux, Murphy, Tom Glavine, Phil Neikro, Hank Aaron, Eddie Matthews and Warren Spahn.
"I did everything I ever wanted to do," Smoltz said. "I accomplished all that I ever wanted to accomplish. I have no regrets. That's the one thing when a day like today comes, it's so humbling because you're reminded of the battles and all that led up to it."
Smoltz is the only pitcher to win over 200 games and have 150 saves. He was the 1992 NLCS MVP and the 1996 Cy Young Award Winner. He also won Rolaids Relief Man of the Year in 2002 and won the Silver Slugger Award in 2007. His most significant accomplishment is what he did in the playoffs. His 15-4 record in the playoffs is the best in National League history and ESPN named him the fourth-best playoff pitcher of all-time in 2010.
Smoltz now works for the MLB Network as an analyst and also works as a guest analyst on TBS Sunday afternoon Baseball. He still resides in Atlanta.