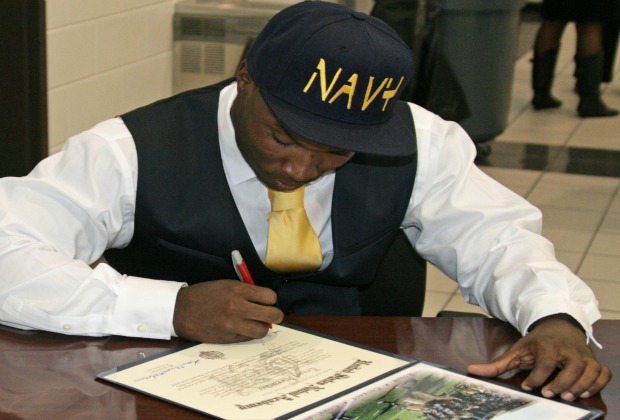 Sonny Kennedy
The first time I had ever heard of National Signing Day was when I was a freshman at Walton High School and I went to see my senior teammates Aaron Kelly, Hamilton Holiday and Jeff Hallen sign their letters of commitment. Kelly was heading to Clemson, Holiday to Vanderbilt and Hallen to Presbyterian College. As a trembling adolescent, the thought of a college coach coming to watch me even practice seemed more distant than the thought of graduation. I knew I wanted to play in college, but the possibility of me getting my own signing day was never going to be an option. I knew my path would have to be different.
These guys on National Signing Day were a different class in my eyes. Not only were they skilled and mature beyond their years on the field, but they were outstanding teammates. All three guys would start and finish at their schools. The Kelly's, Holiday's and Hallen's that have run their course through the college football world are the reason college programs continue to trust the type of talent and leadership mounting in Georgia high schools today.
Fast forward 10 years later, and my view of signing day is still just as green-eyed as the first. Each 2013 signee, just as inspiring and impressive even as I am finally able to look eye-to-eye and measure up with most of them now. The heavy pressure they traversed throughout their careers earned them their scholarships. Mine would never come, but I would walk on to play receiver at UGA for three years and got an opportunity while I was there to once again be impressed.
Each kid's path to a college locker room is different, and so was mine. I had a year and a half of college at Kennesaw State University before I was accepted at UGA. All I did for that year and a half was eat, live and breathe for training and football. When I arrived, I was finally physically mature enough to compete, two years after my graduating class's signing day. Landing on campus for the first time with me were the early enrollees that were just a month out of high school and had not even gotten to their class's National Signing Day yet.
This year alone out of east Cobb, Quincy Mauger, Anthony Jennings, Eddie Printz and Parker McLeod have taken this route and are all already at their SEC schools in winter workouts. It is becoming more and more common. Tavarres King, Ben Jones and Richard Samuel were the guys I got to see go through this challenge. Not only did they make it through the Dante's Inferno known as Mat Drills but they gained the respect of the players and coaches with how well they did. The King's, Jones' and Samuel's of the college football world are the reason early enrollment is beneficial and becoming more prevalent.
The factor that always motivated me was not how I viewed myself, but how I viewed myself next to scholarship athletes. I measured myself to them in order to find out what I was capable of. Everything I did, whether it was in the weight room or the practice field was for the sole purpose to outwork, outperform and beat them at it. It was not a chip on my shoulder as much as it was my tremendous amount respect for them as athletes and individuals.
As I got my first year of college ball under my belt, I finally got to see how recruiting played out. I remember when Aaron Murray and Orson Charles came up to Athens together on a visit. It was unexpected to me when I saw just how supportive and active the current players are in the recruitment process. Despite having a full plate of responsibilities, they focus on bringing in talented recruiting classes. They would offer genuine advice and support to make sure the recruits felt welcome.
After 10 years of seeing signing day evolve before me, I have learned a lot. I still see these guys in a different class than myself, however, as this year's talent disperses throughout the country I am starting to realize it is what Georgia's recruits are doing after their signing days that will ultimately impress me the most.