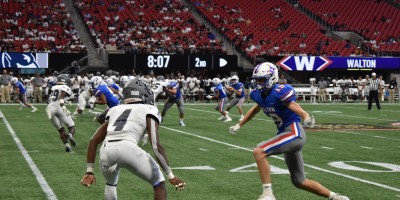 By: Craig Sager
NFL Commissioner Roger Goodell released a memo Wednesday night that outlined criteria for how its 32 teams would reopen their training facilities in the coming weeks and what protocols for dealing with COVID-19 will be in place once they do open. The timing of the memo, which came on the eve of the league's anticipated release of its 2020 schedules, is the latest example of the league's desire to keep moving forward as the country navigates the fallout from the coronavirus pandemic.
"It is impossible to project what the next few months will bring," said the memo. "Uninformed commentary that speculates on how individual clubs or the league will address a range of hypothetical contingencies serves no constructive purpose and instead confuses our fans and business partners, complicates the operations of other clubs, and distracts from the careful planning that is needed right now."
As reflected in Goddell's comments, the NFL is moving forward judiciously and with a willingness to adapt. Additionally, Wednesday's memo was released as the NBA announced it was expected to allow heavily restricted practices for teams as early as this Friday and as NASCAR is set to resume races without fans later this month. The first stages of reopening have been unfolding across the country this week and 44 of the states will have reopened parts of their economies by this weekend.
The league's plans laid out in the memo follow a gradual reopening strategy of NFL facilities that forges a path forward for the 2020 season to go on as scheduled with its first regular season contest set for Sept. 10. Teams have until May 15 to meet all the criteria and must have the proper protocol ready in place once they are open.
These are some of the main criteria that teams must meet by May 15 in order to reopen. First and foremost, both the local and state government officials much consent to the reopening. Following that approval, each club must create an Infection Response Team, which has to have a written plan for how to deal with newly diagnosed cases. Each club also must designate an Infection Control Officer who will oversee all aspects of the implementation of the league's listed guidelines in handling the pandemic. Every employee will be included in these safety measures and anyone returning to work at one of the facilities will be required to receive COVID-19 safety and hygiene training prior to coming back and agreeing to report health information to the ICO.
Initially, the team can permit up to 50% of non-player employees (up to a total of 75 people) and no players are allowed to use the facility during this phase "except those who are continuing a course of therapy or rehabilitation" that was already underway when the facilities closed back in March.
When facilities do open up, a screening protocol will be implemented and employees will be encouraged to stay six feet away from one another. They will also be required to wear masks unless they are alone in an enclosed office. They'll be asked to take their temperature at home and it will be taken again on-site with a no-touch thermometer each day upon arrival to work
Employees will also be asked these five questions each day before entering the building: Have you been in close contact with a confirmed case of COVID-19? Are you experiencing a cough, shortness of breath, or sore throat? Have you had a fever in the last 48 hours?
Have you had new loss of taste or smell?
Have you had vomiting or diarrhea in the last 24 hours?
The 2020 schedule will be released by each individual club at 7:30 PM ET on Thursday night and then the league is planning to make a statement on the NFL Network around 8 PM although it is yet to be heard what this announcement will focus on
The reopening strategy was the main announcement this week, but the league also announced new policies regarding ticket refunds that will better prepare it to handle potential disruptions during the upcoming season.
"All clubs will have in place a policy under which, if a game is cancelled, or is played under conditions that prohibit fans from attending, anyone purchasing a ticket directly from the club (i.e., season tickets, group sales and/ or partial season plans) will have the option of either receiving a full refund or applying the amount paid toward a future ticket purchase directly from the club," wrote Goodell.
The big question now is, can high school football and the fall high school sports season adopt some of the same protocols detailed in the NFL's latest strategy to operate during this pandemic? Certainly, there would be an increase in responsibilities at the high school level in order to protect the safety of players and a gradual reopening strategy could be the answer to keeping things on track.
We are already seeing many changes taking place to prepare for the fall occurring around the country. For example, at the college level, BYU has already held marching band tryouts that were complete social distancing compliant with the entire process able to be played out online. High school football coaches have been using Zoom to hold meetings and go over film for weeks. It is worth considering the other side of the NFL's recent memo, however, that pertains to the protocol that they are putting in place once the gradual reopening occurs. Making every team establish a plan to handle the virus and creating both an Infection Control Team and an Infection Control Officer is a way to make sure that activities are operating in the safest possible environment.
Throughout this week, the GHSA has been promoting a series of Webinars that are focusing on the potential challenges that may arise this fall. Among the topics that have been discussed are how high schools are preparing to manage their ticketing this fall, a look at how professional teams and organizations are preparing for fans to return and learning how to better prepare ticket and event management operations for a new reality. The vanishing prospect of things going back 'business as usual' anytime soon is forcing organizations to plan for pretty much anything at this point. The good news is that the plans continue to remain fluid and are adapting each step of the way. Still, there are challenges unique to high school football that the NFL is not currently having to plan for and these will be major factors for the plan moving forward.
Primarily, not every school is equipped with equal training staffs and doctors in addition to the massive amounts of personal protective equipment and testing capacity that may be necessary to get the up and running again.
Newly-hired Valdosta head coach Rush Propst is one of the state's nearly 50 head coaches that are having to prepare for all the unknowns with brand new programs this offseason, but his years of coaching experience have him focused on the big-picture challenges that the high school season is likely to be facing collectively during this pandemic.
"I want us to be safe and here is what you have to think about," explained Propst. "In high school football, a lot of teams don't have the medical staff to make it as safe as college football and pro football. So people are going to think, okay, pro football is starting back up or college football is starting back up, so high school should also be starting. But the problem is that not every school has a trainer, not every school has a doctor that comes in twice a week or is at every game. Not every school has trainers that can test temperatures at the same rates and make sure that are our players are safe and are healthy and virus free. So I think it is a lot to look at in my opinion going forward is that we have to come up with a way to handle this. One death is too many. Lord forbid, I lost a player to a heart issue in 2002 that died on the field during a 7-on-7. I am telling you, I don't ever want to experience that again and it would just be devastating for something like that to happen and I just know that we need to safe and we need to look at what is best for the high school football athlete and the rest of our fall athletes and not just what the professional leagues are doing."
Earlier this week, GHSA Executive Director Robin Hines appeared on 'Georgia Prep Sports: From a Distance' and expressed similar concerns and sentiments. Among the various measures that may have to take place are new guidelines that range from the number of players allowed in facilities to protocols for equipment usage and cleaning between workouts. Hines noted that these guidelines could be in place by June as part of a strategy that would allow teams to 'ease in' to activities.
It is likely that a multifaceted approach will be coordinated and coaches, school principals and superintendents will each have a role to play in how and when the guidelines are put into action.
"We want to have as normal a season as we can, but we're a long way away," Hines said.