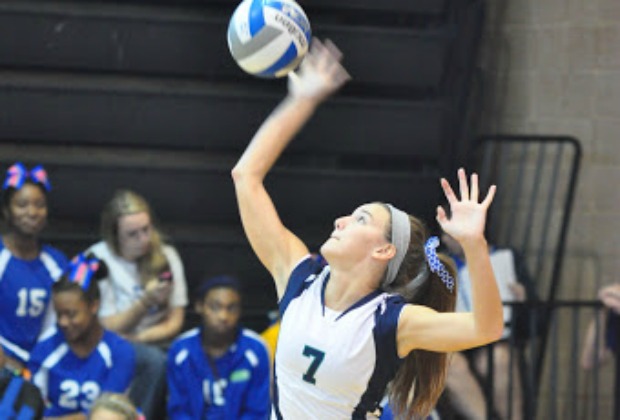 Harrison HS
At the Class AAAAAA state volleyball semifinals Wednesday night at Chattahoochee, the favorites advanced to the finals as two-time defending champion Walton swept North Cobb 3-0 and Harrison beat Johns Creek 3-1. Kelly Scott had 34 assists and Kodi Smith had 14 kills and 12 digs for the second-seeded Hoyas. The Raiders were led by Jessica Sloan's 11 kills and Celeste Ferguson's 27 assists. As a team, Walton had 10 service aces.
The two highest-seeded teams in Class AAAAA also advanced as Area 4 rivals McIntosh and Whitewater will meet for the fourth time this season in the final. The Wildcats won the previous three meetings. Aggressive serving was key for the host Chiefs in their semifinal sweep over Starr's Mill as coach Wendy Weaver's squad combined for 12 aces, led by Kassandra Robert's five. For Whitewater, Annika Van Gunst had 16 kills while sister Teegan had 14 in the 3-0 win over Lakeside-DeKalb. Abby Baker contributed 16 digs for coach Valerie Jones' Wildcats.
The seedings also held true in Class AAAA as Sandy Creek and Columbus will meet in Saturday's final at Marietta. The Blue Devils swept host Marist behind eight kills from Natalie Twyford. The War Eagles saw Alex Nagle and Bailey Weiland combine for 12 kills. Coach Paul Collins' Patriots swept Southeast Whitfield on the strength of 17 kills by Allie Davenport and 30 assists by freshman Alexis Broadwater.
St. Pius upset second-seeded Woodward Academy in the fourth meeting this season between the two squads. Despite having to replace injured setter Amanda Stitt midweek, the No. 3 seed Golden Lions swept the host War Eagles behind 14 digs by Bianca Borough, 16 kills by Emily Morrison and 11 kills by Leah Hardeman. Coach John Frederick's squad will face Blessed Trinity in the final, which beat Oconee County in straight sets. Molly McAlvany had 16 kills and a .636 hitting percentage while Maggie Rick had 32 assists for the Titans.
In Class AA, No. 2 seed Westminster beat Greater Atlanta Christian in four sets as Carolina Welsh had 22 digs, Mason Maroney had 18 assists and 14 digs, Ellie Hartman had 29 digs and 14 assists and Caroline Beadles had 17 digs for the Wildcats. No. 4 seed Lovett upset top-seeded Wesleyan in the other AA semifinal in five sets.
The top two seeds in Class A will clash in Saturday's final at Marietta at Landmark Christian and Walker each advanced. Tiffany Creamer had 14 kills and nine digs for the War Eagles, while Jenny Luckie had 13 digs at Pinecrest Academy. Walker benefited from Anna Chocallo's 23 digs and seven aces while Brooke Warner had 22 assists and sis Paige had 15 kills. The Wolverines totaled 16 aces.