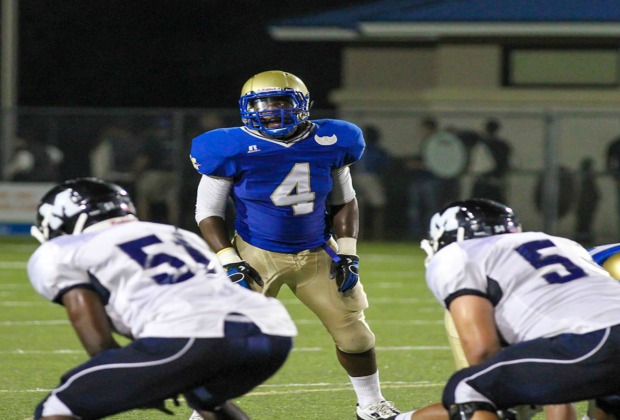 McEachern High School
In the final game of the 2013 Metro PCS Corky Kell Classic, Brookwood will take on McEachern for the first time since 2009. In that season, McEachern won 42-32 in the Kell Classic, but fell 10 games later to the Broncos in the first round of the state playoffs 20-10.
In 2012, both squads lost in their season openers in the Dome, but improved throughout year, and once again finished a regular season with playoff berths. This is the only matchup in the 2013 Kell Classic that pins two losing opponents from last year's slate of games. Brookoood is the third largest school in the state, behind second ranked McEachern.
The Indians return one of the best offenses in the state this year, while Brookwood returns a defensive unit that sought improvements this offseason. There are key players that head coach Mark Crews believes in to strengthen the defense including linebacker Chase Middleton and defensive end Chad Price. Crews holds depth on both sides of the football, in part to versatile athletes like Josh Collins and Mason Leblanc.
"Whoever ends up being a fullback [Middleton or Price], the other one will play safety and both those guys are coming along really well," said Crews.
On offense, Joey McLane is the new Broncos quarterback and steps in for Zach Moon, who had a productive 2012 season. Running back Josh Brown is the feature back, and comes off an 800-yard junior campaign.
McEachern hopes for a big performance from its talented offensive weapons. Last year, Walton sparked big plays after big play and controlled the game through its successful running attack. Former Walton running back Tyren Jones scored five touchdowns and had 302 yards in the 35-24 Broncos loss. This year it is Indian's speed merchant Taj Griffin that will be trying to expose the Brookwood defense from the backfield.
Senior quarterback Ty Clemons led the Indians to an undefeated Region-4 season last year, and compliments Griffin with his speed. Clemons is projected to be an athlete at the next level and has received SEC offers.
Indians head coach Kyle Hockman will try to wear down the Brookwood defense by controlling the ball and time of possession. In order to gain control of the game and succeed, Hockman's defense will have to slow down Brookwood. Indians defensive end Henry Famurewa is committed to Louisville and the 6-foot-2, 230-pounder will be a tough matchup for Brookwood.
The Broncos big plays and drives will have to be generated by a new duo of receivers. Clemson signee Kyrin Priester leaves after catching 54 passes for 1,116 yards and 12 touchdowns during his senior season, and Matt Price and Daquan Joy will act in a collective effort to maintain the offensive production post-Priester.