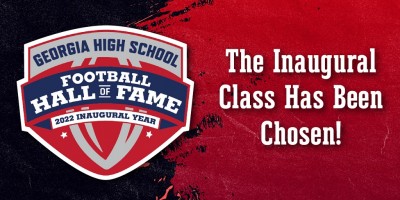 The Georgia High School Football Hall of Fame's 36-member inaugural class is set and will be inducted in a ceremony at the College Football Hall of Fame on Saturday, Oct. 22. Board members of the Hall of Fame began submitting nominees in early spring and then held committee votes and appeals before the final ballot was narrowed down to 100 names in mid-June. The board also decided that the nine Georgia high school players that are in the Pro Football Hall of Fame, the most recent being Sandy Creek's Calvin Johnson, will also be included in the inaugural class (Johnson, Champ Bailey, Mel Blount, Richard Dent, Ray Guy, Jim Parker, Shannon Sharpe, Fran Tarkenton, Rayfield Wright).
Once the ballot was set, each board member was required to vote for a minimum of two players from each of the eight eras represented (Pre-1950's, 1950's, 1960's, GIA, 1970's, 1980's, 1990's, 2000's) and were to select a total of 36 players from the star-powered 100-person ballot. The board held a series of meetings discussing the vision for the Hall of Fame ahead of the final vote and agreed that high school accomplishments would be prioritized above other accolades. Additionally, players would have to exemplify strong character and be able to meet the standards to represent Georgia high school football.
The ballots were voted on and submitted by July 1, but a four-way tie for the final spot in the class forced the board to hold a separate vote-off to complete the process. Johnson County graduate (1979 senior season) and Heisman Trophy winner Herschel Walker was the only unanimous inductee that received votes from all 35 board members, while Stan Rome (Valdosta, 1973), Heisman Trophy winner Charlie Ward (Central-Thomasville, 1987), Garrison Hearst (Lincoln County, 1989) and Jeff Francoeur (Parkview, 2001) all tied for the second-most votes with 30.
Hines Ward (Forest Park, 1993), Eric Berry (Creekside, 2006), William Andrews (Thomasville, 1974), Buck Belue (Valdosta, 1977) and Takeo Spikes (Washington County, 1994) were also among the top 10 vote getters, and in the process, Belue became the first-ever board member to be elected to the Hall of Fame.
There were three players from the pre-1950's that were voted in with Bob McWhorter (Gordon Institute, 1909), Clint Castleberry (Boys, 1941) and George Maloof (Marist, 1947). The 1950's sent four players into the Hall: Pat Dye (Richmond Academy, 1956), Larry Morris (Decatur, 1950), Bill Curry (College Park, 1959) and Stan Gann (Northside-Atlanta, 1957). Former Avondale quarterback Charlie Dudish (1967) represents the 1960's in the inaugural class with Bill Stanfill (Cairo, 1964), Andy Johnson (Athens, 1969) and fellow Avondale graduate Chip Kell (1966).
Strong consideration went into ensuring that players from the GIA were represented in the Hall of Fame and the board's historians and members worked to compile a deep list of standouts that competed in the GIA during segregation to be voted on. Following the final votes, Laney graduate, Super Bowl III champion and New York Jets Ring of Honor member Emerson Boozer (1961) will represent the GIA in the Hall of Fame with Otis Sistrunk (Spencer, 1964) and Clarence Scott (Trinity, 1966). Sistrunk went on to win Super Bowl XI during his time as a Pro Bowl defensive tackle on the Oakland Raiders and Scott had a Hall of Fame career at Kansas State before earning a Pro Bowl bid with the Cleveland Browns in 1973.
The 1970's are the most represented decade in the inaugural class with seven players hailing from that decade. This group of Georgia legends includes Walker, Rome, Andrews, Belue, Heisman Trophy winner George Rogers (Duluth, 1976), Larry Kinnebrew (East Rome, 1977) and Warner Robins teammates James Brooks and Ron Simmons—both 1976 graduates.
Charlie Ward and Hearst are among the four players from the 1980's and are joined by Andre Hastings (Morrow, 1989) and Tracy Rocker (Fulton, 1983). The five players selected from the 1990's include Hines Ward, Spikes, Matt Stinchcomb (Parkview, 1994), Eric Zeier (Marietta, 1990) and Terrence Edwards (Washington County, 1997). Francoeur and Berry represent the 2000's with David Pollack (Shiloh, 2000), Monte Williams (Commerce, 2000) and Darius Walker (Buford, 2003).
The eligibility for the Hall of Fame requires that players be out of high school for eight seasons and be retired from football, which excludes active players from Georgia such as Heisman Trophy winner Cam Newton and Trevor Lawrence, the No. 1 pick in the 2021 NFL Draft.
The Hall of Fame weekend will include a game on Oct. 21, Friday night, between Brookwood and Grayson that will be televised on Peachtree TV. The Hall of Famers will take part in a tailgate and will be introduced at halftime before walking the red-carpet Saturday at the College Football Hall of Fame, which will have a TV component to it.
The inaugural class includes 13 players that played at the University of Georgia and six that went to Georgia Tech. The next college with the most players is Auburn with four while Florida State and Tennessee each have two. Six colleges had one including Maryland State, South Carolina, Tennessee State, Kansas State, Clemson and Notre Dame. Williams played at Butler Community College while Francoeur and Sistrunk didn't play college football, though TV announcers in the NFL liked to jest that Sistrunk went to the University of Mars.
The class also includes two players that went to Valdosta High School (Rome and Belue), Avondale (Dudish and Kell), Warner Robins (Brooks and Simmons), Washington County (Spikes and Edwards) and Parkview (Francoeur and Stinchcomb) while 26 other high schools had one player represented. The senior season with the most players was three from 1976 (Rogers, Brooks and Simmons) and two each from 1964 (Stanfill and Sistrunk), 1966 (Kell and Scott), 1977 (Belue and Kinnebrew), 1989 (Hearst and Hastings) and 2000 (Pollack and Williams).
Of the 36 players voted into the class, 19 played at high schools outside metro Atlanta. Three private school players made the list (McWhorter, Maloof and Dye). DeKalb, Fulton and Gwinnett County have five players each, Washington County has three and Thomas, Lowndes, Houston, Clayton and Clark County have two each. The other eight counties represented by one player are Cobb, Floyd, Grady, Jackson, Johnson, Lincoln, Muscogee and Richmond.
The Georgia High School Football Hall of Fame's board of 35 voters included the Hall of Fame's Executive Director IJ Rosenberg and Co-Chairs Dave Hunter and Rusty Mansell. Rosenberg is the President of Score Atlanta and the former longtime Atlanta Journal-Constitution baseball writer has been a media figure involved with sports for more than four decades throughout the metro area and state of Georgia. His experience with the National Baseball Hall of Fame in Cooperstown, New York and establishing an athletic Hall of Fame at his alma mater, Lakeside High School, in 2019 motivated him to launch the Georgia High School Football Hall of Fame this year.
"We moved quickly but judiciously on this first class,'' said Rosenberg. "The support from a very diverse and knowledgeable board was integral to make sure we not only focused on high school football these last 50 years but also the pre-1970 era. I think it says something about the sheer number of great high school players in Georgia when only one player (Walker) was on every ballot. Now comes the fun part, celebrating this first class. And this event is not going to be cut off from the everyday high school football fan. We are setting aside a large number of tickets for those that want to come and not only see the ceremony, but also meet some of these great players and their families.''
Hunter's outstanding coaching career at Brookwood High School (1987-01) earned him inductions into the Georgia Athletic Coaches Association Hall of Fame, the Athletic Directors Hall of Fame, the Gwinnett Sports Hall of Fame and the Atlanta Sports Hall of Fame. After coaching, Hunter served 25 years with the GHSA's Executive Committee. Mansell has covered the state of Georgia for 12 years as a recruiting analyst for 247Sports and his ability to evaluate gridiron talent extends to his roles on the Adidas All-American selection committee and Georgia Elite Classic All-Star games.
Mansell played high school football at Pepperell High School for then head coach Lynn Hunnicutt—who is one of the seven other current and former head coaches on the board. This impressive group also includes Jimmy Dorsey—who wrapped up a 35-year career as a head coach and athletic director at McEachern in 2019 and current head coaches Tim McFarlin (Fellowship Christian), Bryan Lamar (South Gwinnett), Eric Parker (Burke County) and Maurice Freeman—head coach of reigning Class A Public state champion Brooks County.
The board also includes Earl Etheridge—the only person that has worked with every executive director in the GHSA's existence—and the Association's current Executive Director Dr. Robin Hines. McEachern principal Regina Montgomery, who previously worked as principal for the Cobb County School District has been a champion for athletics throughout her career. The other administrators represented on the board include Atlanta Public Schools Director of Athletics Jasper Jewell, Gwinnett County AD Ed Shaddix and DeKalb County Athletics Specialist Chris Chilton.
Georgia High School Football Historian Todd Holcomb, who worked for many years at the AJC and continues to contribute to its high school coverage, is one of the many established sportswriters and media figures on the board. Holcomb put together 100 player bios for the board and has been instrumental in getting the inaugural class together.
This group also includes Emmy-winning broadcast veterans Sam Crenshaw and Fred Kalil, High 5 Sports High School Football trailblazer Bill Hartman, 680 The Fan's Belue, GPB announcers and high school football experts Matt Stewart and Jon Nelson, DawgNation's Brandon Adams, Score Atlanta's Craig Sager II, Seth Ellerbee and Graham David—who is also the Hall of Fame's secretary, Tifton Gazette Sports Editor Becky Taylor, Sportsvisions USA's DJ Jones and Augusta Chronicle Senior Sports Reporter Gabriel Stovall.
On the executive side, the board includes Atlanta Braves Executive Vice President Jim Smith, who held the same role with the Atlanta Falcons, RFW Solutions Executive Producer Roddy White, Sheet Metal Workers Local 85 Business Representative Steve Langley, Gwinnett Schools Foundation Senior Executive Director Aaron Lupuloff, NABTU Financial Secretary Randy Beall and IBEW 613 Business Manager Kenny Mullins. These leaders in business have worked to promote youth sports in the state for years and share special passion for Georgia high school football.
Of the 45 players that will be inducted into the Georgia High School Football Hall of Fame, 19 are in the College Football Hall of Fame and Hearst is on the ballot for 2023. For more information, please contact IJ Rosenberg at 404-246-7819.
GEORGIA HIGH SCHOOL FOOTBALL HALL OF FAME INAUGURAL CLASS (VOTED IN)
William Andrews (Thomasville, 1974 senior season)
Buck Belue (Valdosta, 1977)
Eric Berry (Creekside, 2006)
Emerson Boozer (Laney, 1961)
James Brooks (Warner Robins, 1976)
Clint Castleberry (Boys, 1941)
Bill Curry (College Park, 1959)
Charlie Dudish (Avondale, 1967)
Pat Dye (Richmond Academy, 1956)
Terrence Edwards (Washington County, 1997)
Jeff Francoeur (Parkview, 2001)
Stan Gann (Northside, 1957)
Andre Hastings (Morrow, 1989)
Garrison Hearst (Lincoln County 1989)
Andy Johnson (Athens, 1969)
Chip Kell (Avondale 1966)
Larry Kinnebrew (East Rome, 1977)
George Maloof (Marist, 1947)
Bob McWhorter (Gordon Military, 1909)
Larry Morris (Decatur, 1950)
David Pollack (Shiloh, 2000)
Tracy Rocker (Fulton, 1983)
George Rogers (Duluth, 1976)
Stan Rome (Valdosta, 1973)
Clarence Scott (Trinity, 1966)
Ron Simmons (Warner Robins, 1976)
Otis Sistrunk (Spencer, 1964)
Takeo Spikes (Washington County, 1994)
Bill Stanfill (Cairo, 1964)
Matt Stinchcomb (Parkview, 1994)
Darius Walker (Buford, 2004)
Herschel Walker (Johnson County, 1979)
Hines Ward (Forest Park, 1993)
Charlie Ward (Thomasville, 1987)
Monte Williams (Commerce, 2000)
Eric Zeier (Marietta, 1990)
NFL HALL OF FAMERS (AUTOMATIC INDUCTION)
Champ Bailey (Charlton County, 1995 senior season)
Mel Blount (Lyons Industrial, 1965)
Richard Dent (Murphy, 1978)
Ray Guy (Thomson, 1968)
Calvin Johnson (Sandy Creek, 2003)
Jim Parker (Ballard Hudson, 1953) – Canton, Ohio
Shannon Sharpe (Glennville, 1985)
Fran Tarkenton (Athens, 1957)
Rayfield Wright (Fairmont, 1963)