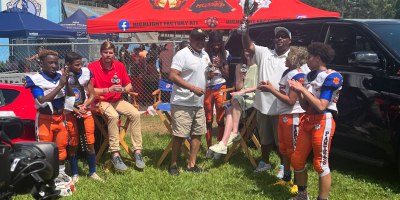 Saturday's Sheriff's Cup Invitational was reminiscent of the 6th grade championship game between Grayson and Parkview. Only this time Parkview came out victorious with 6-0 victory.
It was a defensive struggle all game with multiple blocked punts, turnovers, and three and outs. Neither team could really gain an edge until the fourth quarter.
Momentum in the game shifted after Parkview's third possession in the second half. Lunden Hayes broke out a 10-yard run before teammate and quarterback Maximus Newson rifled a 20-yard  pass to Jayson Woods that was nearly intercepted. The play of the game was Damien (DJ) Moore mossing two Grayson defenders that landed Parkview inside the five-yard line. Two plays later Braddock Green scored, giving Parkview a 6-0 lead with 1:51 left in the game.
"Just to see Lunden out there playing and being able to get that carry which was a big carry was wonderful," said Parkview coach Dante Wheeler. "Jayson Woods had a wonderful catch on that drive. DJ Moore went up and got one on that drive over two people. It just felt good seeing them be able to compete."
Parkview's defense was also critical in this game. The unit was unrelenting, never letting the Grayson offense establish a rhythm, even after turnovers or blocked punts.
"I like to say the defense walks how their head coach walks, and I coach the defense. They just showed me that they can be aggressive," said Wheeler. "They didn't bow down, and weren't afraid to be out there. I can tell they were ready to hit somebody."
The ensuing kickoff would effectively end the game after running back Westin Matthews fumbled and Parkview recovered.
Grayson dealt with a pivotal injury to quarterback Jamal Ambler in the second quarter. Ambler would go on to finish the quarter, but didn't suit up in the second half. Westin Matthews would take his spot.
Grayson Coach Reggie Cockrem gave an injury update before the second half began.
"It may limit what we do offensively, but that's why we have other players to step up," said Cockrem.
It made a difference as the Grayson offense was stifled and couldn't get on track throughout the game. Bobbled snaps and confusion were evident in Grayson's offense after the injury.
One of the bright spots for Grayson was Elijah Tillman, a 6-foot-4 defensive end and tight end, who was all over the field. Tillman made critical pass breakups, tackles for loss, blocks, and pursuits to the quarterback throughout the game even chasing down Parkview's starting quarterback Maximus Newsome.
An assistant coach on Grayson raved about Tillman's speed.
"He may be the second fastest on our team behind our running back."
Despite the plays Tillman made, it just wasn't enough for Grayson to win the game who struggled throughout. Their defense was stout until the last five minutes of the game when Parkview took over and won.
These teams will face again in Week 7 of the GFL season which should be equally as good as this one. There is always excitement when Parkview and Grayson face off.