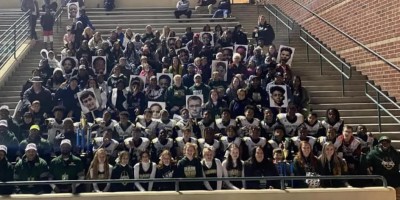 Saturday's Inaugural Sheriff Cup Invitational features a televised rematch of the sixth grade championship between Grayson and Parkview. The action will kickoff at 1 p.m. at Meadowcreek High School and will broadcasted live on Peachtree TV. In last year's game, Grayson came away with a 6-0 overtime victory to clinch the state title. Now, Parkview comes in with aspirations to run it back to the championship game, avenge their loss, and defeat the reigning champs heading into the 2022 season.
Parkview coach Dante Wheeler revealed how his players felt going into the game after nearly taking the title last season.
"My guys are a little more hungry this year," said Wheeler. "I think this is one of the teams they hoped they would be able to face again this year. I think my guys are taking it a little bit more seriously than a scrimmage game."
Grayson coach Reginald Cockrem comes from a rich history of winning in his days at Norcross High School under coach Keith Maloof, where he won two state titles. Cockrem and Grayson come into this season hoping to repeat and do something that has never been done before in GFL history.
"There has been a different champion at this age group every year, so that is something to try to aim for," said Cockrem. "To be the first group in the class of 2028 to ever repeat in GFL."
Grayson carries a lot of tradition, especially with their high school football team's success. Winning is expected, and it is not enough to just be good. The goal is to be great. Complacency is far from the minds of the champs.
"Coming from a place like Grayson, there is always a target on your back just because of what the High School has done," said Cockrem. "Having the success we had last year winning that sixth grade championship, I really want to see how we respond and if we are comfortable with just being good, or can we take it to being great. I tell my kids all the time that good is the enemy of great."
Parkview is using this game as an opportunity and early test to prepare for the season. The Panthers also see it as a way to iron out the kinks and get everything in order for another deep playoff run.
"I know Grayson is going to come well prepared and disciplined," said Cockrem. "They are going to help us realize some other things we may need to work on leading up to our season opener."
Regarding who to watch for Grayson, they have a few impact players and young guys playing football for the first time. It will be tough to balance both, but the Rams are up for the challenge.
"We got about three new first-year players who have never played football, and we are excited about some of the potential they have," said Cockrem.
Elijah Tillman is a name to keep an eye out for as he dominates both sides of the ball when he is in the game and may have potential offers before he even enters eighth grade.
"Tillman is probably the most impactful player on our team. He plays DE, OL, and sometimes TE. He's 6-foot-4 and probably will have scholarship offers in eighth grade," said Cockrem. "He's that good."
"I have a really good quarterback that is talented in many sports, baseball being one of them," Cockrem said. "His name is Jamal Ambler. He is more than just a football player; I am looking for him to have a great season."
Parkview also has some impact players that could pay dividends for them this upcoming season. Of course, there is Dallas Hadley and Khalil Shivers, who had great seasons last year, but coach Wheeler mentioned some different names that could be x-factors and make a difference for the Panthers.
"Damien (DJ) Moore has really impressed us this year. You can tell that he worked on his craft throughout the offseason," said Wheeler. "I am hoping he catches more balls than he did last year, scores more touchdowns."
"We have a new addition to the team named Lunden Hayes. So far, throughout practices, he probably has been the best running back we have had out there," said Wheeler. "His football IQ, the way he hits the hole, his explosiveness, has shown he is a great back."
With the amount of talent on both teams, the recent history, and aspirations for the season, Saturday's rematch should be an exciting matchup that doesn't disappoint.