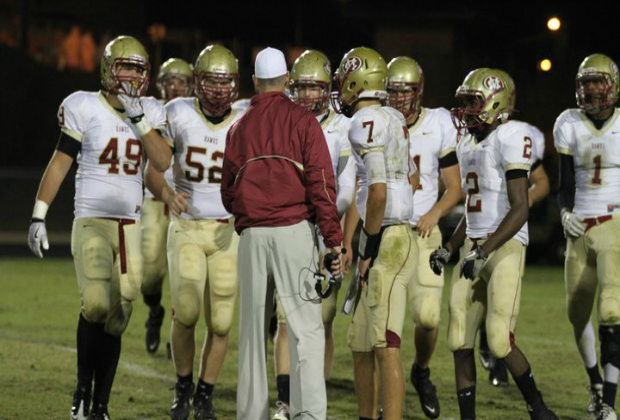 John Russ
Consistency has been the word for Shannon Jarvis' Mill Creek squad over the last several years as his team has not had a losing season since 2007. In fact, the Hawks made the quarterfinals of the 2010 AAAAA state playoffs. Despite finishing 2011 with a 5-5 record, the Hawks made a statement in their final game with an impressive 48-7 victory over Duluth.
"We lost three games in the last minute last year, so we need to improve on doing the little things," Jarvis stated. "We are in a region that is so competitive that the key for us will be to close out games and finish well down the stretch like we did against Duluth."
The Gwinnett County school located near Hoschton opens the gate with two tough games, beginning Aug 31. against Dacula before traveling to Brookwood. The Hawks, along with the rest of their comrades in 7-AAAAA, made the jump to 7-AAAAAA where they welcome newcomer Habersham Central into the region. Mill Creek has a much-needed scrimmage against Parkview on Aug. 17, and Jarvis hopes to see some big things from his team that day.
"We have a slew of young kids and juniors that have been given starting roles, and we feel strongly about their abilities," Jarvis mentioned. "Parkview will give us a great barometer of where we stand as a team and how ready our boys are for Friday nights."
With the loss of quarterback John Russ to graduation, there was supposedly a two-man race between Daniel David and Eric Ritland for the starting job. However, Jarvis revealed some disappointing news from last Friday's practice that Ritland broke his foot and will be out 6-8 weeks. Meaning David, a sophomore, will begin the season under center and get his first snaps at the varsity level.
"Daniel is a very talented young man," Jarvis said. "We are looking forward to seeing him at the scrimmage and seeing him grow with experience from game to game."
David will begin with little experience, but he will be surrounded by successful skill players with a lot of action under their belts. Returning star Jacorey Lewis rushed for more than 1,000-yards last season and his wing man, Carter Governale, rushed for more than 400 yards. Both should help David ease into his role. On the receiving end, the Hawks return Matt Pursell, who wound up with 223 yards last year and other core receivers are back as well. Jarvis hopes the veteran leaders on the offensive side can assist David in his progress.
"Fortunately with the established skill players coming back, we won't have to ask (David) to do a whole lot," Jarvis acknowledged. "He'll come along as time goes by, but we have veterans in (Lewis) and other experienced leaders that we can give the ball to in critical situations."
On the defensive side of the ball, the Hawks lose some key players and most of their secondary. They do, however, return their leading tackler, Kelsey Griffin, a rising senior. Coaches hope he will have a huge impact on his team this season and his future. The 6-foot-2, 297-pound talented defensive tackle is currently being pursued by several SEC and ACC schools.
Due to the amount of starters the Hawks' defense is now without, Jarvis will be using a two-way system with a lot of players showing skills on both sides of the ball.
"Carter (Governale) will be playing a lot at safety, and we've been putting returning wide receiver Michael Cheeks at corner," Jarvis stated. "We do have B.J. Harmon in the secondary. He was able to get some experience with all the injuries during last year, so he is established and will hopefully be able to teach the young guys."