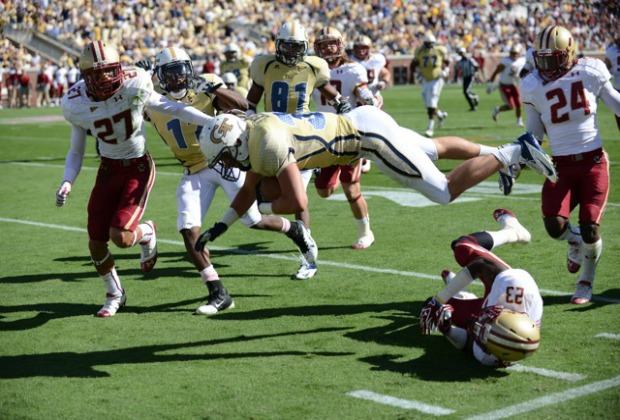 Jon Barash
After losing their past three games, the Georgia Tech Yellow Jackets jumped out to a big lead on Boston College early and never looked back en route to a 37-17 win last Saturday at Bobby Dodd Stadium. The Jackets' offense was once again dominant, gaining 563 total yards, with 391 of those coming from the dynamic rushing attack.
While Tevin Washington added two more rushing touchdowns to his total, giving him 15 on the season, it was Vad Lee who emerged as one of the brightest spots for the offense. Lee threw for a touchdown and rushed for another score. He also added 89 passing yards and 62 yards on the ground in some of his most extensive action of the season.
Perhaps even more impressive than the outstanding offensive numbers Tech posted was the Jackets' inspired defensive performance. Georgia Tech played its first game with Charles Kelly as interim defensive coordinator and the team responded by holding the Eagles to just 32 rushing yards and 1-for-9 on third-down conversions.
Paul Johnson's team finally proved it could get it done against a team the Jackets were expected to beat, unlike in previous games such as the loss to Middle Tennessee. As the season progresses with the Jackets still in bowl contention, this newly-inspired defensive unit, led by Kelly, will need to continue the trend against a tough stretch of opponents.
The remaining schedule includes North Carolina, a surging Duke team and, of course, the finale in Athens against the Bulldogs. Up next, however, is another good opportunity for the Jackets to continue to build defensive cohesion with Brigham Young University serving as the homecoming opponent at Bobby Dodd Stadium.
McCAMISH PAVILION OPENS
With the men's basketball home opener against Tulane just over a week away, both the men's and women's basketball teams hosted Jacket Jam this past Saturday, giving the fans their first opportunity to see the new McCamish Pavilion.
The women's team has planned several special events for its home opener, which takes place on Nov. 11 against Tennessee. The team will recognize legendary former Tennessee coach Pat Summitt and Lin Dunn, who coached the WNBA's Indiana Fever to the WNBA title this past weekend. The team will also celebrate the 20th anniversary of the Jackets' 1982 Womens' NIT Championship.