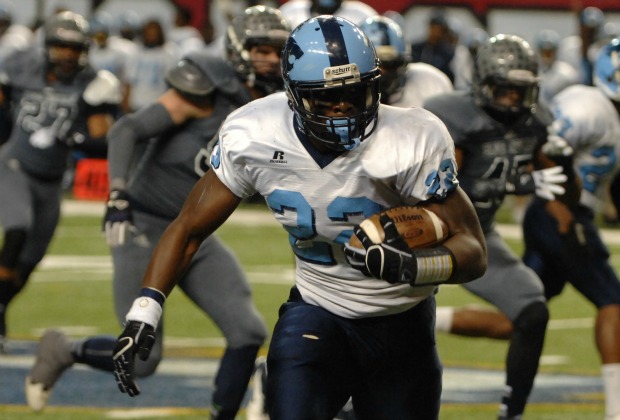 Sonny Kennedy
While not landing some of the nation's biggest prizes, the Georgia Tech Yellow Jackets quietly found themselves with a solid list of 2013 commitments. The already potent triple-option offense added more depth with the commitments from wide receiver Ricky Jeune, whose reliable hands and ability to catch in traffic were key characteristics that impressed the coaching staff, and Lovejoy running back Travis Custis, who is known for being a true power back and possessing strong field vision.
The Jackets had received a commitment from Aquinas fullback Brendan Douglas, but, in a turn of events, he decided to switch his commitment to play for the Georgia Bulldogs. They also lost another potential signee, Lovejoy receiver Jumichael Ramos, who changed his commitment to N.C. State. Tri Cities' offensive tackle Shamire Devine and his 6-foot-6, 355-pound frame is expected to immediately slide in and contribute with his strength and physicality, to go along with his exceptional run-blocking skills. They also added several other local products including Jackson defensive end Justin Atkins, Fayette County receiver Antonio Messick and McEachern dual-threat quarterback Ty Griffin.
INSPIRED WIN …
The Yellow Jackets men's basketball team has certainly shown improvement in conference play as of late, culminating in a 66-60 victory over the Virginia Cavaliers, when they rallied from a nine-point halftime deficit. Mfon Udofia's 15 points led the way for the Jackets and his jumper with 1:19 remaining gave the Jackets the lead for good.
Tech continues to get strong play from freshmen Chris Bolden and Robert Carter Jr., each of whom had 14 points, with Carter adding eight rebounds as well. While both continue to make their impacts in the rotation, Carter has proven that he can become a centerpiece for the program over the next few seasons. Despite a 2-6 record in conference play, the Jackets' signs of improvement have come at the perfect time as they still have 10 games remaining in order to improve their place in the standings in time for the ACC Tournament, where, of course, a shot at the NCAA Tournament is on the line. The team has a rather favorable remaining schedule, with a home date against North Carolina and a road game against Miami highlighting the most difficult games.