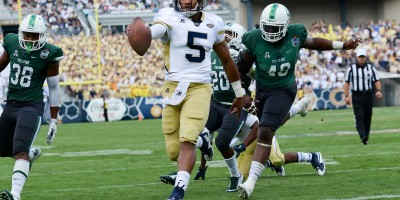 Photo By Jon Barash
The Georgia Tech Yellow Jackets (2-0) surged to a 65-10 victory over the Tulane Green Wave (0-2) after a strong second half last Saturday afternoon at Bobby Dodd Stadium.
The Yellow Jackets accounted for 439 yards rushing on 56 attempts, 294 of which came in the second half. Georgia Tech holds the longest streak in the country with 15 straight games of at least 250 yards rushing.
Georgia Tech quarterback Justin Thomas led the team in rushing with 71 yards on 10 attempts and scored once. 13 Yellow Jackets rushed the ball at least one time and scored a total of six touchdowns.
The Yellow Jackets were deadly through the air as well. Thomas went 7-of-9 for 97 yards and two touchdowns while backup Matthew Jordan went 1-of-1 for 35 yards and a touchdown.
"We didn't have a lot of possessions in the first half, but we are definitely looking for more," Georgia Tech head coach Paul Johnson said. ""I prefer to win every game 65-10, but we're definitely going to be stepping up the competition level."
Georgia Tech found the end zone on its opening possession of the game on a 13-yard run from redshirt freshman Qua Searcy to give the Yellow Jackets a 7-0 lead with 9:58 remaining in the first quarter.
Georgia Tech did not score again until the second quarter, but didn't waste any time finding the end zone from six yards out on a Patrick Scov rush with 12:46 remaining in the second quarter.
After a blocked punt from Yellow Jackets' corner Chris Milton, Thomas scampered into the end zone from four yards out to put Georgia Tech up 21-0.
Searcy finished off Georgia Tech's scoring the first half with a 17-yard touchdown reception from Thomas. The Yellow Jackets led 28-7 at halftime with 145 yards rushing.
The second half was all Georgia Tech. The Yellow Jackets scored five touchdowns from five different players including a 45-yard run from running back Clinton Lynch and a 17-yard run from Marcus Allen.
Two freshmen reached paydirt for the Yellow Jackets in the second half as well. TaQuon Marshall caught a 35-yard touchdown pass from Jordan to start the fourth quarter while Jordan scored from 65 yards out.
Georgia Tech's first true test of the 2015 season will come in a Week 3 matchup with the No. 9 ranked Notre Dame Fighting Irish in South Bend, Indiana.
"I'm very excited about it," defensive end KeShun Freeman said. "We have to fix some small things so we can go up the road and play better."