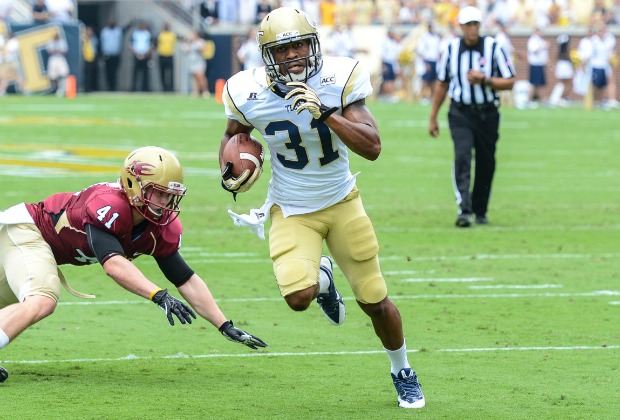 Jon Barash
The scores came in bunches Saturday afternoon for host Georgia Tech as they whipped Elon University in the season opener. The 100th season at historic Grant Field could not have gone any better as the Yellow Jackets routed their guests 70-0.
Georgia Tech managed to score 70 points for the first time since 2001. That game was against a Paul Johnson coached Navy squad, his last season as the leader of the Midshipmen before signing on to coach on the Flats.
It didn't take Tech very long to take control of the game. A little over six minutes into competition Tech running back Deon Hill score on a 14-yard run to make the score 7-0. The Jackets would go on to score three more times, all on runs highlighted by a 33-yarder by Zach Laskey, before the quarter was over to make the score 28-0. Prior to this week's game, Johnson said Tech's No. 1 goal was to win the game. Done and done, they were up 42-0 at the half. The special teams would barely make an impact however, Tech punted only once and did not attempt a field goal on the afternoon.
Sophomore quarterback Vad Lee lived up to some of his preseason hype via a 7-for-11, 189-yard, two-touchdown passing performance. Lee also managed to score on a two-yard run, tallying 49 total rushing yards in the game. Even his backup got in the action, Justin Thomas ripped off a 44-yard run to score the game's final touchdown. Only one Georgia Tech offensive drive lasted longer than nine plays.
Georgia Tech's defense dominated the affair in all facets, scoring 14 points of its own on interception returns from Tyler Marcorder and Chris Milton of 95 yards and 54 yards, respectively.
Johnson didn't seem to impressed and had his mind on the next challenge as soon as this one was done.
"Well, obviously when you win by a score that large, you did some things well. We need to build on those. There's also an awful lot that we didn't do well. (Tech managed to fumble once.) We've got a lot to work on to get ready. Right now, the plan is that we'll take a couple of days off and come back on Wednesday and get ready for league play."
Georgia Tech has next week off before hosting conference rival North Carolina at Bobby Dodd Stadium.