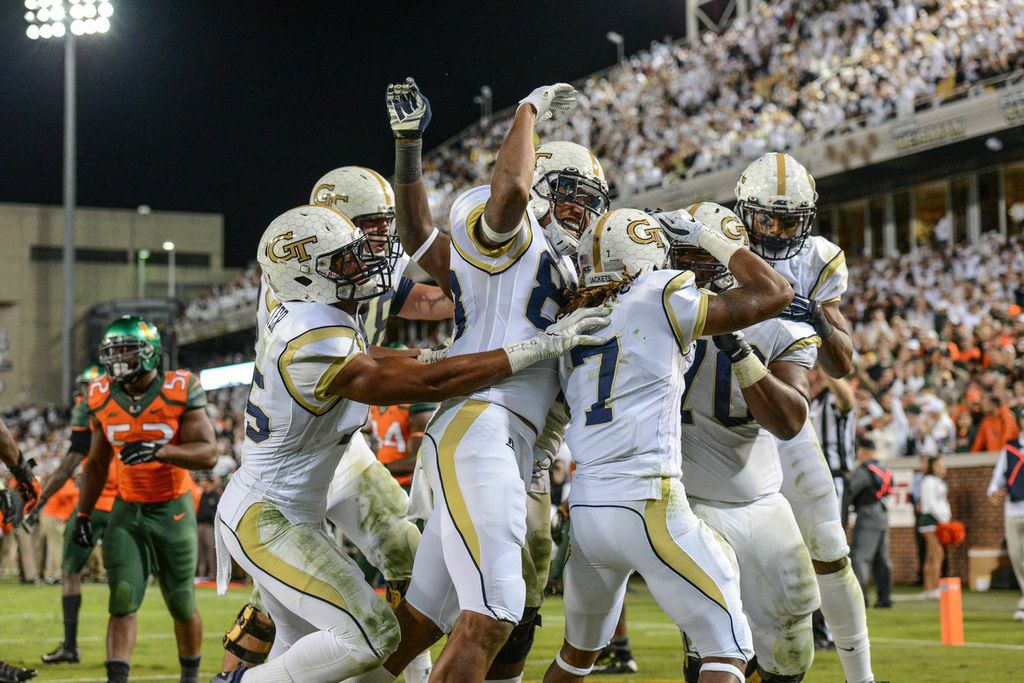 Jon Barash
Georgia Tech came into Saturday's game looking to down a Miami team that had defeated the Yellow Jackets in their last five meetings. That streak came to an end as Paul Johnson's trademark offense picked away at Al Golden's defense on its way to the 28-17 victory.
Miami (2-3, 0-2 ACC) and freshman quarterback Brad Kaaya took charge in the opening drive, connecting with Braxton Berrios on a 21-yard touchdown pass to gain the early lead. The Yellow Jackets  (5-0, 2-0 ACC) would respond on the subsequent drive, moving down to the Miami one-yard line when Georgia Tech quarterback Justin Thomas snuck it in to tie it up at 7-7.
With 1:25 left in the first at their own eight-yard line, it took three plays for the Canes to respond as running back Duke Johnson dashed it into the end zone from 24 yards out for the score. The Tech defense had no answer in the first quarter for the all-ACC back, who had 70 rushing yards to start the game.
The Yellow Jackets' opening drive at the start of the second quarter had the makings of a three-and-out until a pass interference call on Miami gave Georgia Tech new life. Paul Johnson's squad took advantage, putting together a 67-yard drive with Tony Zenon reaching the Hurricane end zone on a six-yard run to knot it up at 14. On Miami's next possession, the young quarterback Kaaya looked strong as he led his offense down to the GT 27 until a pass from the freshman quarterback was tipped and intercepted by safety Isaiah Johnson to halt the Hurricane momentum.
Georgia Tech began the second half with a trademark Paul Johnson drive, going 13 plays and 75 yards in 6:50 with B.J. Bostic punching it in from two yards out to make it 21-14. Miami would threaten on the following drive as their offense moved down to the Tech 12 before the Hurricanes settled for a field goal. The Yellow Jackets' offense would continue to slice through the Al Golden's defense early in the fourth quarter as A-back Deion Hill punched it in from eight yards out for the 28-17 lead.
Paul Johnson's offense ran for 317 yards while maintaining possession for 40:45 in the ball game. B-back Zach Laskey was the main workhorse as he rushed for a game-high 133 yards on 29 carries, his fourth-career 100-yard game. Georgia Tech will remain at home next Saturday when they take on Duke (4-1, 0-1 ACC) at 12:30 pm. The Blue Devils are coming off of a bye week after falling to Miami on Sept. 27.