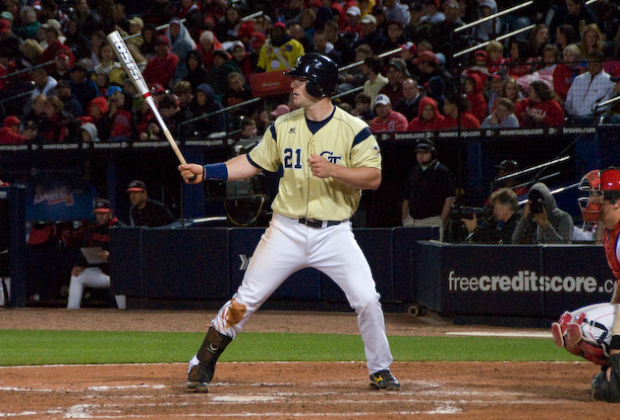 Jon Barash
This past academic year only emphasized the view that Tech is a prestigious academic institution with students and student-athletes who excel in the classroom. Several Tech athletes were honored individually for their academic success after Tech's Academic Progress scores were released to the public.
On the baseball diamond, three Yellow Jackets were included on the 21-man 2012 ACC baseball All-Academic team. To qualify for the team, an athlete must have made at least a 3.0 GPA during the fall semester of 2011 and have averaged a 3.0 GPA during the academic year. Luke Bard, Zane Evans and Brandon Thomas made the list after all appearing on the list in years past.
The women's softball team managed to double up Danny Hall's baseball team, as six ladies earned a spot on the 2012 All-Academic team. Alysha Rudnik, Haley Downs, Karly Fullem, Kate Kuzma, Kelsi Wesemen and Shannon Bear achieved the honor for the Lady Yellow Jackets. Only Virginia had as many players earn a spot in this prestigious group.
Another honor was bestowed on Tech baseball players, as Jake Davies, Brandon Thomas and Buck Farmer were named second-team all-atlantic region by ABCA/ Rawlings.
PASSED THE APR …
The dreaded Academic Progress Reports were released last week. Teams have to maintain a score of at least 925 to avoid penalties and are graded based on the average scores of all four classes of students. Overall, Tech teams averaged a 930 APR.
"We are pleased to once again see strong scores and improvements in our Academic Progress Rates," said Dan Radakovich in a story on the school's athletic site. "It is a testament to the quality and efforts of our student-athletes, our academic support staff and coaches. Over half of all our teams had a perfect APR year in 2010-11, and all teams exceeded the NCAA benchmark of 930. These scores represent strong progress to the ultimate goal of graduation and earning a Georgia Tech degree. I am proud to work with such a great group of young men and women."
A perfect APR score is 1000 and the golf team, women's cross country team and men's swimming team all nailed that mark. Paul Johnson's football squad had its highest score ever with a 974.