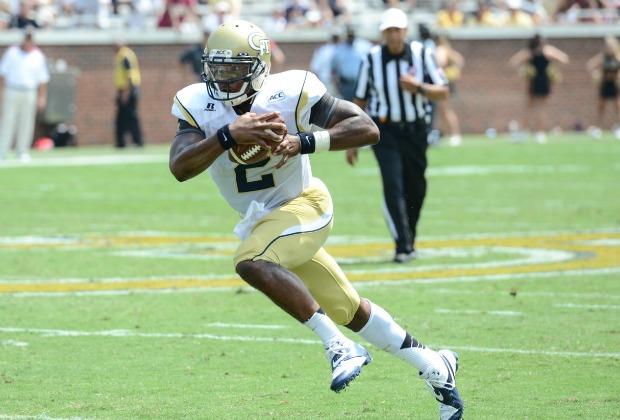 Photo by Jon Barash
The countdown to opening day has begun as Georgia Tech players and coaches participated in the start of training camp to prepare for the 2014 campaign, which will begin on Aug. 30 at home against Wofford. More than 100 players reported to campus last Thursday, aiming to improve on a season in which they finished with a 7-6 record, including 5-3 in ACC play.
Head coach Paul Johnson bellowed nothing but excitement when pointing to the posi- tion battle at quarterback that was left vacant by former starter Vad Lee, who transferred to James Madison back in January. In his place are two competitors in the form of redshirt sophomore Justin Thomas and redshirt junior Tim Byerly. So far between the two contenders, Thomas has seen more playing time with the first-team offense. "We're actually very excited about the quarterback position at Georgia Tech," said Johnson. "I think that (Thomas) brings a great skill-set to what we want to do offensively and (Byerly) had a great spring practice. They are both guys that embrace what we do."
Johnson will look for them to lead his triple-option offense that averaged 35 points per game in 2013 but must fill voids left by A- back Robert Godhigh and B-back David Sims. Godhigh averaged more than 10 yards on 69 carries last season and also led the team in receiving. Sims was Tech's leading rusher with 846 yards on 151 attempts.
CLUTCH KICK …
The two words that any football player hates to hear as the end of practice are "wind sprints." Usually the only way to avoid the closest thing to death at the end of practice is requiring a team member to perform an extremely difficult task that coaches may deem impossible.
Enter sophomore kicker Harrison Butker, who was told by coaches that if he could nail five field goals in a row, each longer than the other, he and his teammates would avoid the much-dreaded wind sprints. Challenge accepted. Butker approached each field goal carefully, disregarding pressure that can only be equated to a potential game-winning kick. The Westminster alum nailed the first four with ease be- fore his last attempt came from more than 50 yards out. With a calm, cool demeanor, Butker sent yet another pigskin straight through the uprights. His teammates exploded with jubila- tion as the team formed a mosh pit around the Decatur native.