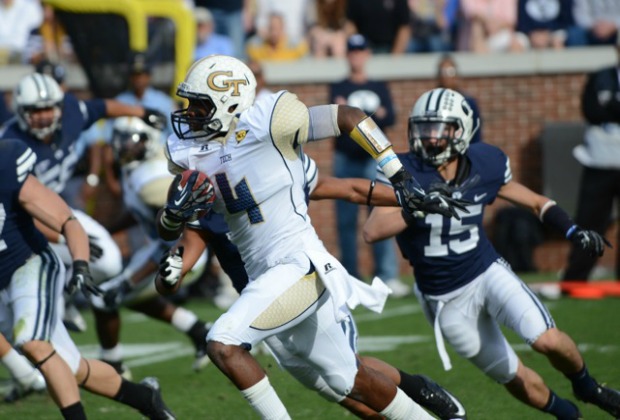 Jon Barash
Coming off a disappointing home loss to BYU, Georgia Tech knew it had to rebound in a big way against Maryland, which had become the victim of bad luck surrounding its quarterback situation.
After losing four quarterbacks due to injuries throughout the season, Maryland had to rely on a linebacker-turned-quarterback, Shawn Petty, to help guide their offense. Despite passing numbers that were better than expected, the Terrapins were no match for the Jackets, who stifled the nation's fourth-ranked run defense into allowing 370 rushing yards and soundly defeated Maryland 33-13 in College Park.
Orwin Smith led the way with 89 yards and a touchdown, while backup quarterback Vad Lee added two scores to go along with 60 rushing yards. Lee received the bulk of the snaps over starter Tevin Washington after the latter's rough start against BYU. Washington, however, did find the endzone for the Jackets, adding to his team-leading total of 16 rushing touchdowns. The team utilized a multitude of backs in gaining its 370 yards on the ground, with Synjyn Days, Robert Godhigh and Washington also amongst six Jackets to eclipse 30 rushing yards. Next up for the 4-5 Yellow Jackets is a trip to Chapel Hill to take on the North Carolina Tar Heels, who will enter the game with a 6-3 record.
HOOPS SEASON
Tonight will be a historic day for the Georgia Tech basketball program as the newly-opened McCamish Pavilion will host its first regular-season game when the men's team will take on Conference USA's Tulane to kick off the 2012-13 campaign. Brian Gregory's team enters the season returning several key members from last year's squad, including Mfon Udofia and Daniel Miller, and also welcoming highly-touted freshman Robert Carter Jr., who was amongst the top centers in the 2012 recruiting class out of Shiloh.
Coming off an 11-20 season last year, expectations are for the team to show vast improvement as Gregory will be leaning heavily on his veterans such as Udofia and Miller, along with Carter. A new go-to scorer will also be needed to replace Glen Rice Jr., who was dismissed from the program last season.