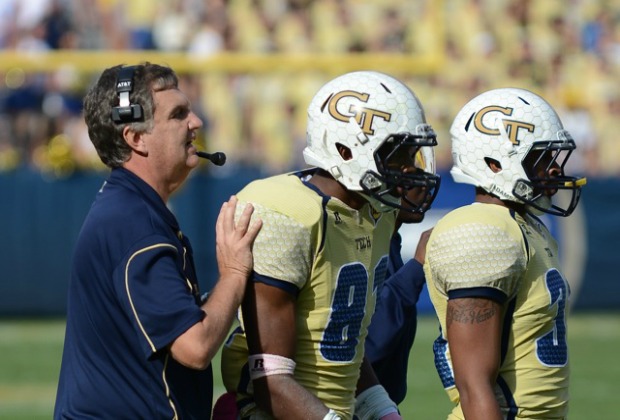 Jon Barash
This time last month, any notion that the Georgia Tech Yellow Jackets would find themselves with not only a spot in the ACC championship game, but also a shot at a BCS bowl would have dismissed immediately. After a shocking turn of events and Miami self-imposing a postseason ban for the second straight season, this Jackets team, with a record of 6-5, will be taking on the Florida State Seminoles for the conference championship and the right to represent the ACC in the Orange Bowl.
With three straight victories over Maryland, North Carolina and Duke, the team finished conference play with a 5-3 record. The Jackets' 42-24 win over the Blue Devils was highlighted by three touchdown passes by Tevin Washington, a rarity by Georgia Tech standards, to go along with a rushing score, his 18th of the season and now the ACC record for rushing touchdowns by a quarterback.
The Dec. 1 matchup against the Seminoles will feature the Jackets' high-powered option offense, which has averaged just over 47 points per game in the team's three-game winning streak, against a Florida State defense that has surrendered just 13.1 points per game, good enough for fifth in the nation. While Tech's defense has left much to be desired this season, they will certainly have their hands full against a Seminoles offense that has actually outdone the Jackets, with a 42.9 points per game average, led by quarterback E.J. Manual, who has passed for 2785 yards and 21 touchdowns, both career highs.
CLEAN, OLD-FASHIONED HATE
Not to be overlooked, and certainly not this year, is the 2012 edition of the Tech-Georgia rivalry game. With both teams playing in their conference championship games in the same year for the first time, and with Georgia potentially playing for a national championship game berth, the game has taken on added meaning. The Jackets will be looking to play spoiler to their in-state rival's aspirations, while the Bulldogs will be looking to continue their dominance over Tech. Georgia has won 10 of the last 11 matchups between the two teams. The Jackets' last win over Georgia came in 2008, a 45-42 victory in Athens.