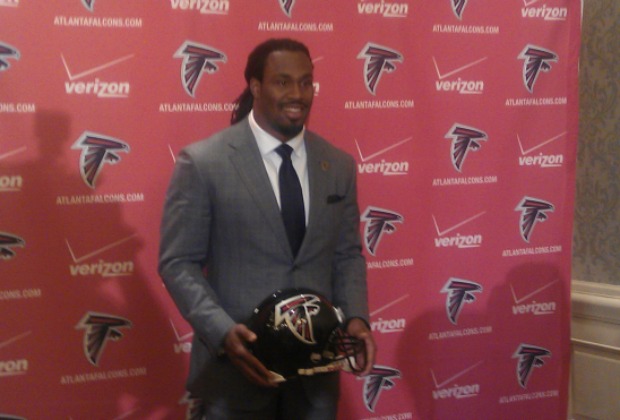 Brian Jones
Steven Jackson has been one of the better running backs in the NFL the last 10 years.
Since 2004, Jackson has rushed for 10,135 yards, which makes him the league's active rushing leader.
Jackson is a three-time Pro Bowler and has been a member of the All-Pro team twice.
However, there is one thing that Jackson that has not accomplished yet and that's winning a Super Bowl, which is why he left the St. Louis Rams and joined the Falcons, a team that was 10 yards away from reaching the Super Bowl this past season.
"To be at this point of my career where winning is most important, I believe this will be a great chance for me to finish my career with an opportunity to doing some special things," Jackson said in his press conference on Friday at the Arthur Blank Foundation offices in Buckhead.
Jackson, who considered retiring after the 2012 season, was looking at a number of teams to sign with, but felt the Falcons would be the best fit.
"We had some options out there and one or the other it didn't make sense," Jackson said about looking at the other teams' deals before signing with the Falcons. "But the one I really wanted to happen, it happened."
Jackson realizes that the Falcons have established themselves as one of the better teams in the NFC. He hopes that he can not only be a major contributor, but also a source of leadership and resiliency, things that the Falcons have been known for since the Mike Smith era began.
"I have a never-die attitude, that is something I bring to the team," Jackson said. "They don't need much. They are already a good team if I didn't join. I'll try to bring leadership and that relentlessness to the team."
Another thing Jackson brings to the team is another weapon for Matt Ryan. Not only can Jackson get the tough yards and be the bell cow in the running game, he can catch the ball out of the backfield. For his career, Jackson has 407 receptions for 3,324 yards and eight scores.
Perhaps the funniest thing about that is his lowest reception total (19) came in his rookie season. Former Falcons running back Michael Turner had 19 receptions last year, a career high.
Jackson did not get to meet Ryan because the Pro Bowl quarterback is overseas. But Jackson and Ryan talked on the phone and Ryan welcomed Jackson to the team.
Although Jackson is excited to work with Ryan, he's more excited to work with several other Falcons that he has built relationships with since being in the NFL.
"Roddy [White] is a good friend of mine," Jackson said when asked about the players he was rooting for while watching the NFC Championship game. "I got a chance to know him over the years. And [Jaquizz Rodgers] is an Oregon State Beaver. I knew Quizz when he was a teenager."
Jackson also can't wait to work with Tony Gonzalez who recently decided to come back to the team after contemplating retirement.
"It definitely made the decision easier knowing that Tony was coming back," Jackson said. "To be able to play with a first-ballot hall of famer, I think getting his first win in the postseason drove the fact that he wanted to come back. He knows how close you guys are to going to the ultimate goal."
Jackson knows that his time in the NFL is coming to an end, so he wanted to join a team that is ready to make a Super Bowl run. Jackson has dreamed about holding the Vince Lombardi Trophy ever since he was little and thinks that he can do that with the Falcons.
"I've come to realize that unlike a lot of sports, you need a very supportive group abound you and people that are willing to have the same goal in mind," Jackson said. "I believe this is what this team presents for me."