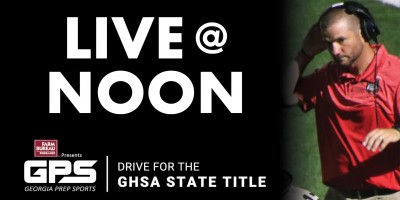 The 176th episode of the Georgia Farm Bureau "Georgia Prep Sports: Drive for the GHSA State Title" video podcast will feature Cedartown head coach Jamie Abrams to close out the show at 12:40 p.m. His No. 1 ranked Bulldogs are 11-0 heading into Friday night's home game against visiting Stephenson in the Class 4A State Playoffs and Abrams will preview the matchup and talk with host Craig Sager II about their chances to win their first-ever state title this season.
Before Abrams joins the show, Sager will open the Friday broadcast with Score Atlanta Reporter, Writer, Football Analyst, Commentator & Content Creator Najeh Wilkins to dive into his 1-on-1 conversations with Walton head coach Daniel Brunner and host Buford head coach Bryant Appling ahead of their top 10 Class 7A second round showdown.
There will be a brief segment focused on the Round 2 Maxwell Ratings and any potential upsets that stand out to us after just 16 of 127 first round matchups were calculated as upsets in the first round.
Producer Jordan Dubrof will also be joining the show to highlight top matchups across the classes with his predictions on the biggest ones.
The Drive to the GHSA State Championship podcast is produced by PlayOn Sports, which runs the National Federation High School Network, and airs Mondays, Wednesdays and Fridays starting at noon.