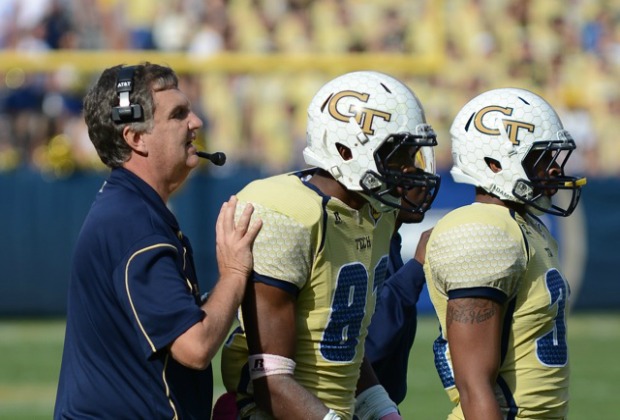 Photo by Jon Barash
Georgia Tech football coach Paul Johnson spoke with the media Monday at the ACC Kickoff event in Greensboro, N.C., and he spoke nothing but positive words about his players, who, as a squad, was picked to finish fifth in the ACC Coastal Division. Johnson's most notable praise though was directed to- ward starting B-back Zach Laskey. According to Johnson, Laskey delivered the best spring practice of any player and he attributed that to the B-back's increased confidence, strength, size and maturity. Laskey, a senior from Peachtree City, has logged 1,182 career yards in his Georgia Tech career, including the last two years of backing up former Yellow Jacket David Sims. Johnson continued by speaking praises about this group's character.
"I think overall, we've got a pretty good bunch of kids, but I think, Georgia Tech, that's kind of the nature of where we are," Johnson said.
NESBITT 2.0 …
The Yellow Jacket head coach also offered some interesting comparisons for the slated backup quarterback Tim Byerly. Beginning by saying the comparisons may not be fair, Johnson stated that Byerly has some similarities to former Yellow Jacket Josh Nesbitt, the catalyst for the Tech ACC championship team of 2009. The thought for this was due to Byerly's tough- ness and running style.
"(Byerly is) hard-nosed. And I say that as a real complement to Tim, because I thought Josh Nesbitt might be one of the toughest players I've ever coached," said Johnson.
Byerly saw action in four games of the 2013 season, rushing for 125 yards on 18 at- tempts with two TDs.
THREE DISMISSED …
After making positive remarks about the team's overall character, Johnson and the staff at Georgia Tech saw themselves kicking three players off the team Tuesday. Wide receiver Anthony Autry and defensive linemen Darius Commissiong and Travin Henry, were all dismissed for violations of the athletic as- sociation's student-athlete code of conduct. Autry and Commissiong had already been sus- pended for the first two games of the season. Henry had previously been suspended for the opening contest of last season. The dismissal of Anthony Autry may cause a ripple effect for freshman running back Myles Autry, who signed in February but has yet to receive eligi- bility from the NCAA. The younger Autry had previously cited the chance of playing with his older brother as a main reason for signing with the Yellow Jackets.