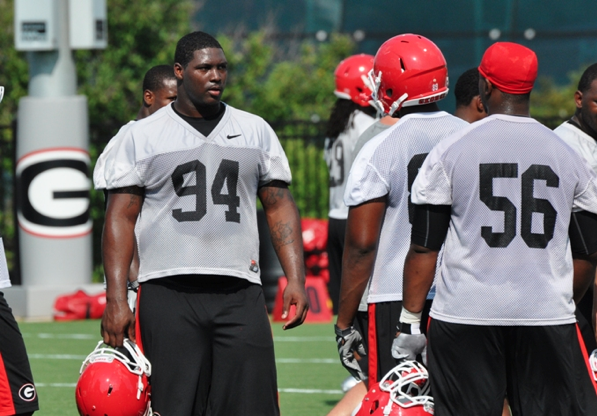 GeorgiaDawgs.com
No real surprise, but Georgia Football announced early Wednesday afternoon that sophomore defensive end Jonathon Taylor had been dismissed from the team. Taylor was arrested early Tuesday morning for felony aggravated assault/family violence.
Before the start of Georgia spring practice's Taylor and three other players were arrested for "double dipping" university athletic association checks. The three players used a bank mobile app to photo-deposit the checks and then tried to physically cash them in at a local convenience store.
Taylor along with sophomore safety Tray Matthews, wide receiver Uriah LeMay, and defensive end James DeLoach were all arrested for committing this crime.
Matthews has since been dismissed from the team and is now at Auburn. LeMay voluntarily decided to transfer out to University of North Carolina-Charlotte. Now only DeLoach remains an active player in the program.
With Taylor now gone from the program, the depth chart changes for the Bulldogs on the defensive line. We can now expect to see Chris Mayes or maybe even John Atkins move up on the depth chart.
Ray Drew is still a player that has some question marks surrounding him following the spring. That's because Drew was getting third team reps during the spring, following a strong 2013 season. This was no real concern to new defensive line coach Tracy Rocker, who said that Drew was probably "a little beat up from the season and would be where he needed to be," for the season.
Another player who is trying to make a jump to the front of the depth chart at defensive end or nose tackle this fall is senior Mike Thornton.
Moral of the story is that with Taylor being kicked off the team, the battle for playing time has kicked into overdrive at yet another position on the defense for new coordinator Jeremy Pruitt.