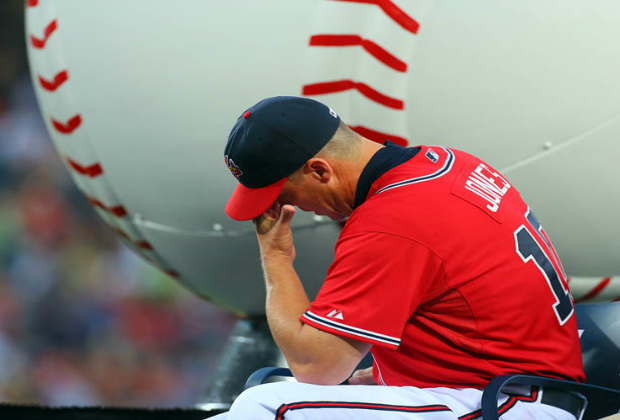 Curtis Compton/AJC
With five games remaining in the 2012 regular season, Chipper Jones is hitting 296 with 14 homers, 62 RBIs and 56 runs scored in just 368 at-bats. Those do not appear to be the numbers of a man who will be hanging up his bat and glove within the next six weeks. But that's exactly what Jones, 40, is doing after 19 seasons with the Atlanta Braves.
COOPERSTOWN CALLING
What he has done over those 19 seasons is sure to send him to the Hall of Fame, likely on the first ballot in 2017. Jones has belted 468 career home runs, the most ever among National League switch-hitters (third overall among switch-hitters behind Mickey Mantle and Eddie Murray). Other records held by the Atlanta legend include most home runs in a season by an NL switch-hitter (45 in 1999), most consecutive games with an extra-base hit (14 in 2007) and most consecutive 20-homer seasons to begin a career (14). As of Wednesday afternoon, Jones owns 2,724 career hits, 1,623 RBIs and 1,617 runs scored to go along with a lifetime.304 batting average.
None of those gaudy numbers and sta- tistics, however, can accurately measure what he has accomplished as a team player. Jones helped lead the Braves to 11 of their 14 consecutive division titles from 1991 to 2005 (his first full season was 1995). He has helped to deliver three National League pennants to Atlanta in addition to the 1995 World Series title. Next month he will take part in his 12th postseason—all, of course, with the Braves.
Jones is on the brink, relatively speaking, of two career milestones. He is two productive seasons away from both 3,000 hits and 500 home runs. He's also on a young team that just made the playoffs for the second time in seven years, a clear sign that Atlanta is on the rise. Alas, much to the chagrin of Braves fans, the end is all too near.
"Nights like tonight are really cool and I'll never forget them," Jones said last month on Chipper Jones Bobblehead Day at Turner Field. "But I'm ready to do something else. Do I think I can come back next year and play? Yes. I don't want to. That's what people don't get. I've made promises to the most important people in my life, and I'm not going back on that promise."
SWEET SWAN SONG
Even at 40-years old, really cool nights have been the norm for Jones this season. On May 2 at home he ended an absolutely outrageous game against the Phillies with a two-run walkoff homer in the bottom of the 11th inning to win it 15-13. Three days later, in Colorado, he tied his career-high with five RBIs as the Braves erased a 6-0 deficit and won 13-9. On July 3 at Turner Field, he came up with the third five-hit game of his illustrious career, going 5-for-5 with four RBIs in a 10-3 blowout of the Cubs. On August 16, he treated the home crowd to his first multi- homer game since June 7, 2009, blasting two dingers in a 6-0 shutout of San Diego.
All of that led to Tuesday, when the Braves clinched a playoff spot in pulsating fashion. Trailing Miami 3-2 going into the bottom of the ninth, Jones led off the final frame with a scorching double to right-center. Next up was Freddie Freeman, who promptly delivered a two-run, 411-foot shot that sent the Turner Field faithful into delirium—and Atlanta straight into the postseason.
"Chipper's last year…it couldn't be a better story," Brian McCann exclaimed in the midst of a champagne-drenched celebration. "We were all saying that he's going to do something special."
NOT OVER YET
Regardless of what Jones does with his bat or glove in the next few days, it's going to be a special weekend at Turner Field. Jones' last homestand of his career got underway with the wild win over the Marlins and his final regular-season home game will come on Sunday afternoon at the end of a three-game series with Jones' friends, the Mets.
Even though Atlanta is booked for the playoffs at least in some way, shape or form, fans can expect their team to go all out against the Mets—and that includes Jones being in the lineup. Even if home-field advantage in next Friday's one-game wild card playoff has been clinched, there is a good chance the Braves still be within striking distance of Washington throughout the entire weekend. On Monday, Jones took to Twitter and posted the following: "To answer all ur questions…. Im playing every day this week…..get ur butts to the Ted!!!"
Fredi Gonzalez perhaps painted a more diplomatic picture of the situation. "Our goal is to go ahead and try to clinch and try to get in, and then play it by ear," the second-year manager told the Atlanta Journal Constitution before Tuesday's contest. "(Jones) wants to play all the games at home and you can't blame him. And if we get a chance to clinch, maybe you give him a couple at-bats every day and take him out of the game, that kind of stuff."
But any at-bat on Sunday likely won't be Jones' last at Turner Field, because it is a virtual certainty that Atlanta—unlike in 2011—will have more baseball. If the Braves storm back and win the division, they will host at least one playoff game. If they settle for a wild card spot, it is almost assured they will host the one-game playoff. As of Wednesday afternoon, Atlanta's magic number to clinch the No. 1 wild card is three, over the St. Louis Cardinals.
"We knew last year was a fluke," Jones said after the playoff clincher, referring to their monumental September 2011 meltdown that gave St. Louis the wild card. "(We) took the attitude last year to try and hang on. This year we took the bull by the horns. We're shooting for the stars. We're still shooting for the division until they close us out."