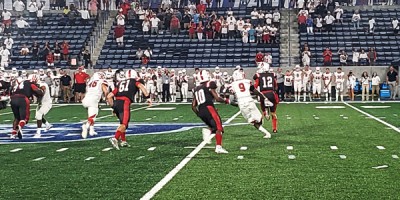 Milton 21, Archer 19
Milton weathered a late Archer drive in the final minutes of the game to take the victory in the final game of the night at the MetroPCS Corky Kell Classic at Georgia State Stadium in Atlanta.
The Eagles held on after taking a 21-12 lead with 7:40 left in the game on a 3-yard run from quarterback Jordan Yates, a Georgia Tech commit. Archer cut into the lead on a 7-yard pass from Carter Peevy to Braylen Weems, his second of the night, with 3:24 left in the game, but Milton's defense kept Archer just shy of field goal range on the final drive and forced a turnover on downs which allowed Milton's victory formation as the seconds ticked off.
"I am not surprised with the way we played," said Milton head coach Adam Clack. "Archer is a heck of a team and they are just going to be even better as they head down the stretch. But this is game one. Neither team is going to be the same going into this game as coming out. And neither team is going to be the same in ten weeks from now."
Archer broke the stalemate at 3:42 in the second quarter on a pass from Peevy to Weems but failed to make the extra point. Milton countered with a 14-yard touchdown pass from Yates to Holden Shaw on the final play of the first half to give the Eagles a 7-6 lead. Yate's 43-yard run at 4:35 left in the third quarter pushed the lead to 14-6 in favor of Milton.
Archer answered on another strike from Peevy to Weems, this time for 23-yards, to make it a two point game, 14-12. Yates' explosive 3-yard touchdown run with 7:40 left  in the game gave Milton a 21-12 lead. Peevy found Weems again with 3:24 left to pull to within three, 21-19, before the Eagles' defensive stand.
"It's huge," said Yates following the win. "For us to start of the season like this against a great team like Archer, on the biggest stage in the state, it's huge for us and a great way to set the tone."
Yates finished with 92 yards rushing with two touchdowns and was 7-of-14 passing for 72 yards and a touchdown. Shaw finished the game with 31 receiving yards and a touchdown.
Peevy finished with 210 yards and three touchdowns on 15-of-24 passing. Weems finished the game with 102 receiving yards and three touchdowns.