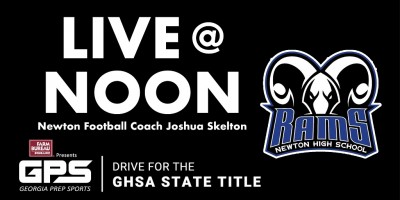 The 195th episode of the Georgia Farm Bureau "Georgia Prep Sports: Drive for the GHSA State Title " video podcast will feature newly hired Newton head football coach Joshua Skelton—who was named the head coach of the Rams on Jan. 27.
Host Craig Sager II will continue his coverage of the football offseason that has already produced more than 60 head coaching changes and will cover the latest hires and remaining vacancies before transitioning to the latest basketball news and upcoming region tournaments.
Sager will highlight the top regions and brackets and will conclude the show with recruiting news and film breakdown involving some of the top football prospects in the Class of 2024 and players that are poised for big senior seasons.
The Drive for the GHSA State Title podcast is produced by PlayOn Sports, which runs the National Federation High School Network, and airs Mondays, Wednesdays and Fridays starting at noon.