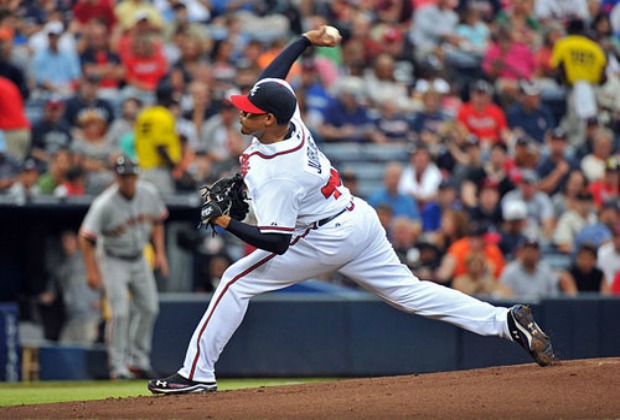 Curtis Compton
Everything appeared to be clicking right along in the career of Braves starting pitcher Jair Jurrjens in July 2011. The righthander was 12-3 and was a strong candidate to be the National League's All-Star starting pitcher. After Jurrjens was skipped over for the honor it was more than one month before he earned another win for the Braves, and he was shut down for the year after his Aug. 30 start.
After struggling through spring training, Jurrjens was sent to Class AAA Gwinnett after racking up an 0-2 record with a 9.37 ERA in just four starts.
"When you struggle, it starts playing a little bit with your mind," said Jurrjens. "I think most of my problems were a lack of strength in my leg, and it was enabling me to make my delivery over and over and over and that was making me leave a lot of pitches up in the zone and fall behind hitters."
During his time in Gwinnett, the 26-year-old Jurrjens was able to get his body right and return to his pre-2011 All-Star break form in his fifth year with Atlanta.
"Going down and working on my full body conditioning and strength … definitely (helped) being stronger and fix my delivery," said Jurrjens. "I've been trying to work on the small stuff in my delivery and make it more consistent and that's helped me make more quality pitches."
Jurrjens has compiled a 50-35 record during his tenure with Atlanta, which could last at least one more season if the Braves' front office wants to offer arbitration for 2013. He is in his second arbitration-eligible year making $5.5M in 2012. The results have been mixed so far.
Jurrjens has pitched just 45 innings, allowing 31 earned runs (34 overall) and 62 hits with just 19 strikeouts compared to 18 walks. He has allowed six home runs, but it has taken this recent hot stretch to whittle his ERA down to 6.20 for the year. Despite giving up eight runs Tuesday, Jurrjens has been back on his game since being recalled from Gwinnett. Before Tuesday, his shortest outing was five innings in a 10-3 win over Chicago on a steamy July 3 appearance.
"I just take it day by day," said Jurrjens. "I'm just trying not to get over my head."
His most recent outing has Braves fans burning up the message boards and radio phone lines, demanding Braves GM Frank Wren make a move for a starting pitcher. However, if Jurrjens can continue to go to the bump every fifth day and pitch like he did in Boston and Philadelphia since returning, perhaps the Braves' easiest move to place an All-Star caliber starting pitcher at the top of the rotation is simply to juggle the order. Jurrjens is pitching for a spot in the postseason rotation and a contract, either with the Braves or with another contender.
"You still need to win the games before you get to the postseason," said Jurrjens. "We need to take care of the regular season before we starting thinking about the postseason. I'm just working for every start as hard as I can to prepare myself better to go out there and give my team the best job I can do. Take it day by day."
If Jurrjens stays healthy down the stretch, expect the Braves to make a run at a pennant, perhaps with Jurrjens leading the way.