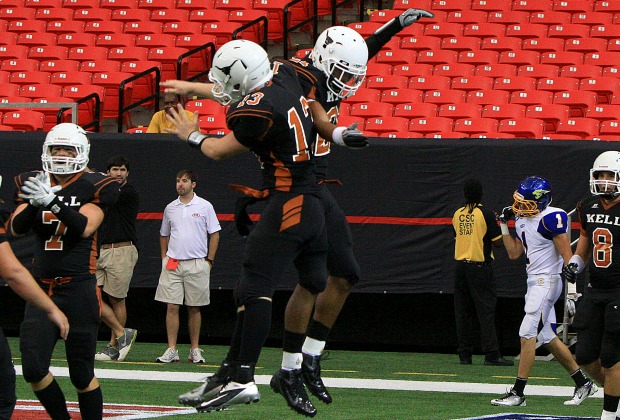 Photo by Sonny Kennedy
When the Kell Longhorns and the Chattahochee Cougars began the first game of the 2013 Metro PCS Corky Kell Classic in the Georgia Dome shortly after 9:00 Saturday morning, neither offense needed a wake-up call. The Chattahoochee offense marched down the field on its opening drive in a methodical fashion behind a precision passing game led by senior quarterback Tasleem "Taz" Wilson.
Senior running back/defensive back Kieron Ashley finished the drive with a five-yard touchdown run to the left side. Kell needed less than 10 seconds to tie the score. On its first play from scrimmage, senior Matt McGuigan found senior wide receiver/cornerback Julian Burris on a tunnel screen. Burris sprinted past the Chattahoochee defense for a touchdown. Kell missed the point after. Afterwards when asked how long the first play from scrimmage had been scripted Kell head coach Derek Cook replied, "About four seconds before we ran out there [for the start of the one-play drive)."
Wilson took over where he left off directing the Hooch offense to the Kell 30-yard line before senior kicker Adam Abdelaoui bombed a field goal from 47 yards out to make the score 10-6 Chattahoochee. Then, the offensive adrenaline must have worn off for both squads because both offenses began to sputter.
Just as it appeared the teams would head to halftime without scoring again, Cook decided to roll the dice. Cook called for a timeout with 1:28 remaining and go for it on fourth down and nine yards to go. McGuigan rewarded his coach's gamble by connecting with senior wide receiver Errol Breaux on post pattern for a 39-yard touchdown. Burris for good measure then intercepted a Wilson pass to end a would-be scoring drive for Chattahoochee. Chattahoochee coach Mike Owens probably wished Burris had not returned from the locker room for the second half. Burris took the opening kickoff back 94 yards for a touchdown. Less than 15 seconds into the third quarter, Burris helped extend Kell's lead to 20-10. Wilson got back to work running plays with the passing game that Abdellaoui converted into field goals of 31 and 47 yards.
As the game moved into the fourth quarter both offenses began to sputter trading interceptions, one each by Ashley and senior Avery Ward of Chattahoochee. Senior Derrick White also intercepted a pass for Kell. McGuigan led the Longhorns on one more drive to seal the contest. He extended the drive on a pass to Breaux for a critical third-down conversion. From there, the Longhorns pounded the ball toward Chattahoochee's end zone before senior running back Jay Moxey finished the scoring with a 5-yard run with just 1:36 remaining in the game. The play of Kell's offensive line on that final scoring drive and throughout the game really impressed Cook.
"I'm really proud of our offensive and defensive lines. I challenged them before the game and told them that they would be responsible for our success all this year." Burris totaled 231 all-purpose yards, notching stats running the football and returning punts in addition to receiving and kickoffs. Wilson accumulated a combined 193 yards passing and rushing. While Burris was happy with his big day, he wanted just a little bit more. Afterwards he said, "Being able to score two touchdowns felt great, but I wish I could have got even one more."