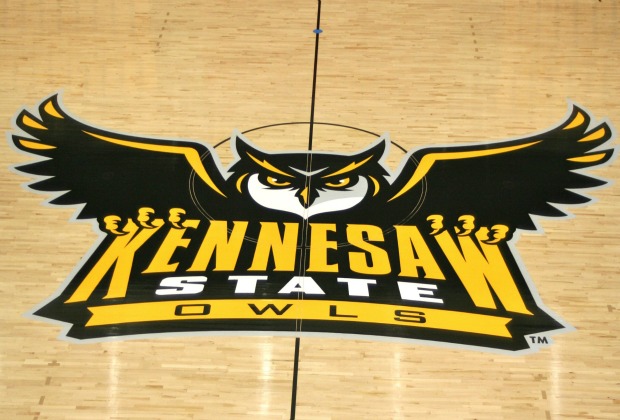 KSU Media Relations
It's a big week for Kennesaw State. The Owls will celebrate Homecoming Week with "Flight Night" this Saturday, an event that tips off the men's and women's basketball season.
Saturday will begin with the volleyball team taking on Mercer at 3 p.m. and will conclude with a fireworks display. Between those two events, there will be a homecoming parade, the debut of the Kennesaw State dance and cheer teams and the unveiling of a new "Scrappy" mascot. The basketball teams will be introduced before a concert featuring J-Dash and the Yin-Yang Twins takes place on the Campus Green.
Fans will have a chance to take part in a three-point shooting contest and watch a scrimmage from both basketball teams. For people planning to attend the event, parking will be available in the east parking lot or the central parking deck. The east parking deck will be closed for the fireworks show.
STILL KICKING
The soccer team will be part of the homecoming action with games against North Florida Friday and Jacksonville on Sunday. The Owls could not come home at a better time as the team is riding high on a three-game winning streak.
Last weekend, the Owls took down Lipscomb 3-2 thanks to a fast start in the first half. Katrina Frost scored her fifth goal of the season in the ninth minute before Liz Blackburn and Kelsey Barr scored in the 33rd and 35th minutes, respectively.
"It was good we got the result," head coach Rob King told ksuowls.com. "Obviously 3-0 at halftime and they battled really hard. Lipscomb battled really hard in the second half minutes and made it difficult for us. We knew it was going to be a battle and got the results we wanted this weekend, so we are very pleased."
WHITLOCK RETIRES
After 28 years with the softball program, head coach Scott Whitlock will call it a career after the 2013 season, an announcement he made last Saturday at the alumni game and circle of honor ceremony.
Whitlock has been the head coach for 27 years after spending one year as an assistant. During his career, Whitlock has won two national titles, 13 regional titles and numerous personal accolades. He will be replaced by Wes Holly Jr., who will be the co-head coach during the 2013 season.