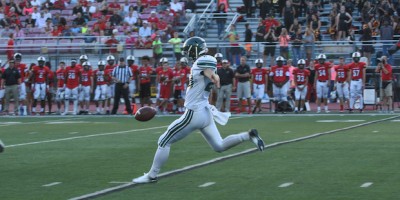 Punter Alex Gracey, a Stanford signee. All photos courtesy of Westminster.
When Joe Sturniolo walked onto the campus at Westminster in 2000 to get his daughter, Katie, set for class, he searched for the football coach with an offer in mind. Sturniolo was the head statistician for the Atlanta Falcons and Georgia Tech football at the time, and he wanted to be involved with the Westminster athletic program.
The meeting between Sturniolo — Coach Sturno as he is now called — and head football coach Gerry Romberg took place in a trailer in the parking lot of the new gym, which was under construction, and little did anyone know that the meeting would be the first building block of Westminster's prolific kicking and punting squad.
"And the rest was history, as they say," Romberg said of his initial meeting with Sturniolo. "At the time, Joe was doing stats for the Falcons [and Georgia Tech]. He just came in and said, 'My daughter is going here, and I was wondering if you needed any help with stats and I'd love to be involved with the program,' and it was just like that."
Romberg agreed. Before too long, Sturniolo gravitated toward the kickers during practices, and as a product of his soccer background, he offered tips and suggestions. The tips and suggestions led him to study kicking and punting, buy books on the subject and even much later speak with Falcons kicker Matt Bryant for tips. By 2004, he had carved out his own specialized job as the kicking coach.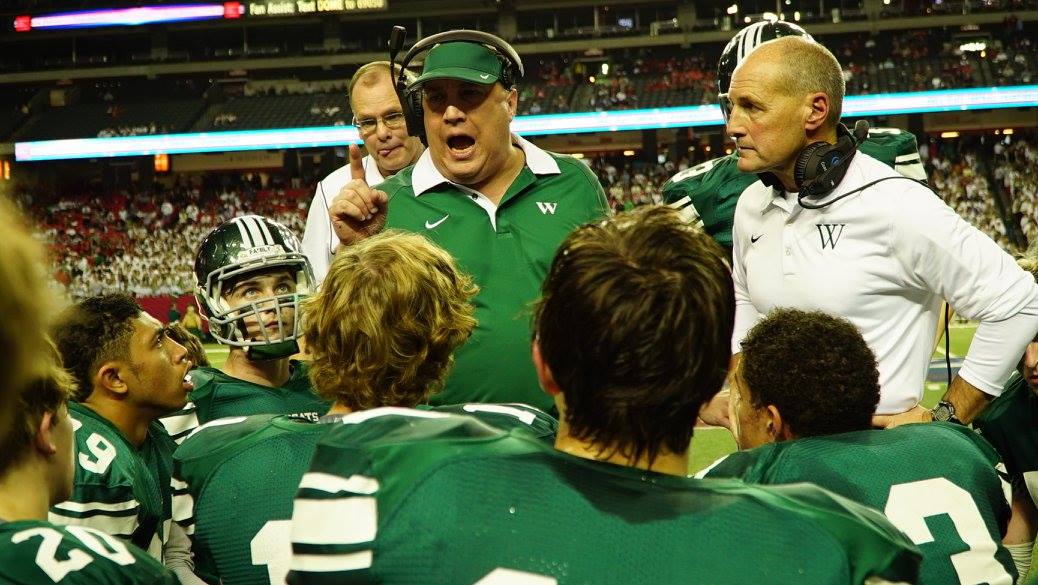 Sturniolo speaks to special teams during the 2015 state title game.
Since that meeting, it's astounding how many great kickers and punters Westminster has produced from a school of roughly 800 students. There might be 370 or so boys in the upper school each year. A Westminster football roster might have numbers in the high 60s, and all but a handful typically participate in at least one other sport. There's no spring football practice because there's no point; few of the players or coaches would be available. Romberg, for example, is an assistant coach to Scott Snyder, the boys soccer coach, in the spring. Snyder, in return, helps with some football in the fall and runs the basketball clock in the winter.
For a school so small in numbers, Westminster's football team has produced a Ray Guy Prokicker.com All-American winner (the high school equivalent of the college award named for Thomson High School's legendary kicker, a Pro Football Hall of Famer), six all-state kickers/punters, two second-team all-state kickers/punters, four preseason all-state kickers/punters, 14 all-region/all-metro kickers/punters and nine kickers/punters who have gone on to play college football. And all that since 2007.
The list reads like a who's who of the kickers and punters from across the nation. There's Harrison Butker, the team-captain kicker at Georgia Tech now with the Kansas City Chiefs. There's Blake Gillikin, a punter who was recently named a team captain at Penn State. There's Alex Gracey, a punter committed to Stanford. There's Avery Bass, a kicker at Illinois. There's Felipe Villahoz, a punter who played at North Carolina. There's Patrick Knight, Butker's backup who had just six high school punts but went on to be a D-3 All-America punter at Rhodes College, where he played in the D-3 Senior Bowl. And now there's upcoming senior Charlie Ham, the current kicker, who's been offered by Georgia Tech but admits he's a Georgia fan.
The list (see the full one below the article) goes on.
Lately, the successful string of Westminster kickers has prompted a unique name for the program. Welcome to "Kicker U."
"I'm in just a perfect situation for what I want to do," Sturniolo said. "I've got a head coach that believes in the value of special teams. Special teams are 20 percent of all the plays of a high school football game. If you have two hours of practice, theoretically, 20 percent of that time should be spent on special teams. We spend at least that. Every Monday is 30 minutes, Tuesday and Wednesday are 20 minutes and Thursdays are 45 minutes. Special teams are valued."
A specialized kicking coach is a rarity at the high school level — and in many cases, the college level — and Westminster has reaped the benefits.
"Gerry allows me to be an assistant coach, where my primary duty is working with kickers. Shoot, that doesn't happen in colleges. In college, the special teams coach is also the tight ends coach, or something along those lines. I get to concentrate just on kickers, so I spend my entire practice period on kickers, which is a blessing and a curse some days," he laughed.
However, Sturniolo cannot take all of the credit. Nor does he try; it's just not his nature. And that's the same for anyone involved in the soccer or football programs at Westminster.
"We have a soccer program that is phenomenal," Sturniolo said. "Most of my kids, not all, but most of my kids come out of the soccer program. You just go back and look at the number of the state championships. Most of my kickers come out of that program and they know how to win. They know what it takes. They know the kind of teamwork it takes. Scott Snyder, our soccer coach, will tell you that every one of his players who plays football comes back to soccer as a better soccer player."
Snyder, who has won seven soccer titles at Westminster, coached Butker and countless other kickers and punters during the spring. The Wildcats under Snyder have won titles in 2001, 2006-07, 2011-13 and last season. Throughout the three-peat from 2011 to 2013, Butker helped to lead the way.
"The thing for me, I just love sport," Snyder said. "It doesn't have to be confined with one sport. That's the big thing that we've been able to get the boys to buy into because the new world, everyone wants to be specialized and do one thing. Well, they're good at multiple things."
But back to the "multiple things."
Smith Haverty's all-state selection in 2007 was the first real sign of success, in terms of awards, after Sturniolo's arrival. It would be several more years before a phenom, Butker, came to Westminster. During his freshman year, the future Georgia Tech leading scorer and starting Kansas City Chiefs kicker did not even play football. He was a budding soccer star who played tuba in the band and had a powerful leg.
In yet another chance meeting, Jeff Oser, the senior varsity kicker looking for his replacement, also played in the band. He knew of Butker's ability because it was rare for a freshman to make the varsity soccer team. A talk and a bit of convincing led Butker to come out for the football team, and in the fall of his sophomore year, he made his debut. No one knew how good he would be or how fast it would happen until Butker won the 2011 Ray Guy Prokicker.com All-American award when he went 16-of-17 on field-goal attempts as a junior. Nationally, teams at the next level took notice.
"I think everywhere in the country [soccer is played] in the fall," Butker said. "Georgia and a lot of other states in the South, that I know of, have a big advantage with the sports being in a separate season. I know in Kansas City, football and soccer are in the same season, so it's really hard to get soccer players to become kickers because that's a really big jump. Whereas myself, Blake, Patrick, Alex Gracey, who [is signed with] Stanford, we are all soccer players and played soccer all four years and were able to do football as well. [There is] that interest to get us to join the football team. And once we did, we were fortunate to have Coach Joe Sturniolo as the kicking coach."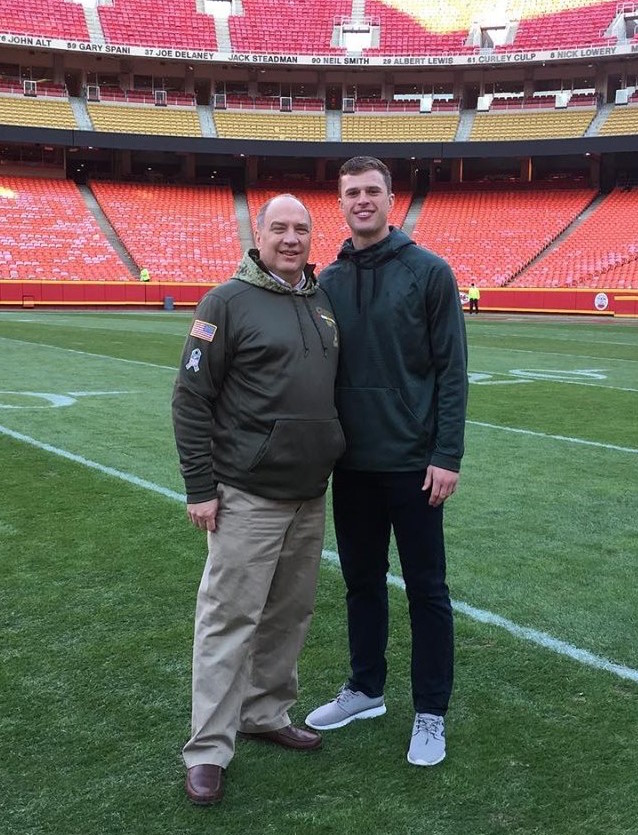 The unique situation and setup at Westminster helped mold Butker, and the others, into some of the best kickers Georgia has ever seen. Butker went from a soccer player to a new football player to an award winner to the starting kicker at Georgia Tech and even to setting rookie records in the NFL, all in a seven- to eight-year span. It can all be traced back to Westminster.
"A lot of high schools don't have that," Butker said. "Coach Sturniolo was able to really teach me the fundamentals of kicking that can kind of kick-start — it's funny that I say 'kick-start' — but kick-start soccer players' careers kicking the football. The technique is slightly different, and you just have to be pushed in the right direction, and you can kind of improve once you have that baseline foundation for the technique of kicking and punting a football."
Gracey, Stanford's future punter who already is making waves with Cardinal fans, gave his breakdown of Sturniolo's approach.
"In my opinion, I think that having a designated kicking coach is huge," Gracey said. "We get one-on-one training, day-in and day-out. Coach Sturno knows what he's doing, and he can give us drills to be proactive. The tradition that we have here is that we demand high expectations with our kickers and punters."
That baseline foundation that Sturniolo focuses on clearly has aided in the transition from soccer to football for many of the kickers and punters at Westminster. But technique isn't everything, and a lot of the success comes from the quality of the athletic leaders that Westminster produces. A kicker being named a team captain in college is rare, but Westminster has two of them. When Gillikin was recently named one of the team captains at Penn State, he joined Butker, who made captain in his senior season at Georgia Tech.
Another huge factor in Westminster's Kicker U is the foundation that has been laid before young players enter the program with thoughts of grandeur as a…kicker? It's a bit unheard of.
"The people before us drive us to want to be like them," Ham said. "I know Harrison had an impact on Blake. I know Blake had an influence on Alex, and Blake did impact me, too. But after seeing Alex (Gracey), I wanted to be a part of Kicker U also, so I had to join. After watching Harrison for his first professional game and seeing him miss his first kick, I just knew he would bounce back. And then he went and hit a bunch in a row and set some records and stuff. That definitely motivates me to want to get out and practice some more."
The Kicker U kickers who have gone to the next level have left some large shoes to fill on West Paces Ferry Road. The graduates have also set lofty goals for those following in their footsteps. Gillikin's kicking helped lead Westminster to its first football title since 1978 after the Wildcats defeated Blessed Trinity 38-31 in the 2015 Class AAA championship game.
"We wouldn't have won that game without Blake's kicking," Romberg said.
In the victory, Gillikin made three field goals, including a 53-yarder, and had two punts of at least 60 yards. When the rising junior was recently named a captain during Penn State's spring practice, just a few seasons removed from his time at Westminster, it showed the younger players the level of talent and leadership needed to earn a captaincy in college.
Butker's career at Georgia Tech was phenomenal. He converted 208 of 210 extra-point attempts and 43 of 60 field goals and became the program's all-time leading scorer. He will long be remembered for his 53-yard field goal in Athens in 2014 that sent Tech to overtime against Georgia. Tech later won.
He is another that has inspired younger generations. During his rookie season in the NFL, he set two NFL marks in the first month: most made field goals in a month by a rookie, and first rookie to make five field goals in multiple games. Those types of performances have created an "I can do that too" mentality at Westminster.
And that mentality, when paired with the trust between coaches Sturniolo, Romberg and Snyder, should continue to produce kickers of exceptional quality for years to come.
"I have always felt we were building something kind of special, our own little Kicker U," Sturniolo said. "We have great kids who want to specialize and succeed and a system that promotes it, from Romberg's belief in the importance of special teams. One of his favorite quotes is, 'The punt is the most important play in football.' Coupled with the success of Snyder's soccer teams and the synergy we have in helping kids get better at both sports and having them dedicate a coaching spot to just kickers is unheard of, at the high school or college level. Westminster allows me to do exactly what I want to do — make kickers a strength of our team."
Westminster's kicking achievements since Sturniolo's arrival
Ray Guy Prokicker.com All-American
Harrison Butker, K/P, 2012
All-State
Smith Haverty, K, 2007
Harrison Butker, K, 2011
Harrison Butker, K, 2012
Blake Gillikin, P, 2015
Alex Gracey, P, 2016
Alex Gracey, P, 2017
2nd Team All-State
Blake Gillikin, P, 2014
Charlie Ham, K, 2017
Pre-Season All-State
Trey Blasingame, K, 2015
Blake Gillikin, P, 2015
Harrison Butker, K, 2012
Alex Gracey, P, 2017
College
Matthew Cesari, K, Furman
Patrick Knight, P, Rhodes – D3 All American, D3 Senior Bowl
Graham Perry, P, Hampden Sydney
Felipe Villahoz, P, UNC
Avery Bass, K, Illinois
Blake Gillikin, P, Penn State – ESPN Freshman All American, 2nd Team Big Ten
Harrison Butker, K, Georgia Tech – all-time leading scorer, NFL Combine invitee
Alex Gracey, P, Stanford
All-Region/Metro
David Towles, K
Jeremy Godsell, K
Keith Eckert, K
Jeff Oser, K
Felipe Villahoz, P
Jack Schlafly, K
Trey Blasingame, K
Blake Gillikin, P/K
Harrison Butker, K/P
Alex Gracey, P
Charlie Ham, K
Brad Mann, P
Matthew Cesari, K