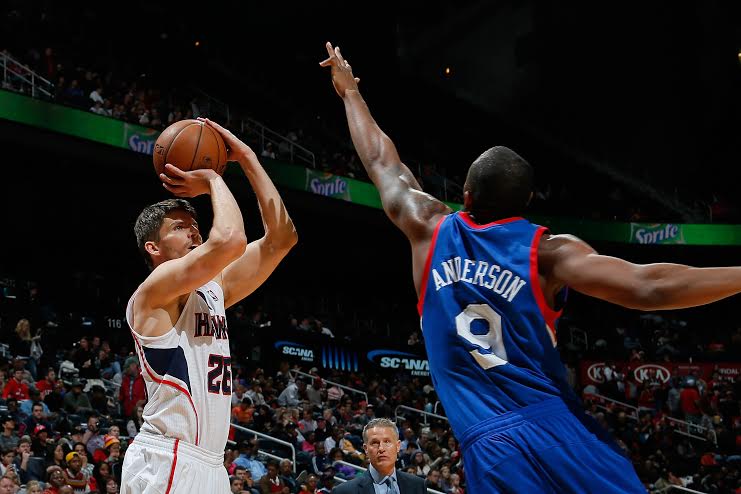 Kevin Cox – Getty Images Sport
Despite losing Joe Johnson in 2012 and Josh Smith prior to this season, the Atlanta Hawks sit nicely in third place in the entire Eastern Conference as of Monday. Their record may be a modest 15-12, but they will take any assists they can get from East rivals in Mike Budenholzer's first year as head coach. Speaking of assists, the Hawks are getting a whole lot of them from point guard Jeff Teague. They are getting a whole lot of everything from Al Horford. But one teammate has shot—quite literally—into prominence this year. Relatively new to a starting role, Kyle Korver has made the most of a big opportunity in Atlanta. And that's putting it mildly.
THE RECORD …
When Korver drained one three-pointer in a win at Oklahoma City on Nov. 4, 2012, little did anyone know that it would start a record streak in NBA history. Since then, Korver hasmade three-pointers in 96 straight regular-season games. He broke the previous mark of 89 (set by Dana Barros of the Philadelphia 76ers and Boston Celtics in the 1994-95 and 95-96 seasons) with a pair of treys in a Dec. 6 home victory over Cleveland.
"It's never been about a streak," Korver told the Atlanta Journal Constitution after extending it to 90. "It's about making the shots you get. I don't want to be a high-volume shooter. I try to be efficient. You get a shot and you try to make it. I didn't even know this streak existed until halfway through last year when people started talking about it. It's a cool thing. It was never the focus."
But it's worth focusing on; what feat unaccomplished by anyone else in history isn't? During this ongoing streak, Korver has con-verted an incredible 257 of 546 three-point attempts (46.3 percent). He has made at least four shots from beyond the arc in 23 of the 9 contests. Korver's most prolific long-distance assaults featured eight three-balls in a Jan. 25 visit to Boston (the 32-year-old nailed all eight of his threes in the second half to help the Hawks force extra time before they finally prevailed 123-111 in double-overtime) and last Wednesday against Sacramento.
SIGN OF THINGS TO COME … Hawks' center Al Hoford revealed just before Korver broke the record that he heard players on other teams, hoping to stop the streak, insisting they would not let him get off any three-pointers.
"I've heard it," Horford told the AJC. "You're not going to get a three-point shot off tonight.' I've definitely heard it. It gives credit to what he's been able to do."
Of course, attempting to body up Korver away from the basket is not exactly an enlightening recent development. The current stretch of beyond-the-arc barrages has only confirmed what everyone already knew. It's something well-known since the Pella, Iowa native took his talents to Creighton University in 1999. In four years at Creighton, Korver led the Bluejays to four straight NCAA Tournaments and a berth in the second round of the Big Dance in 2002 following an upset of Florida. He averaged 14.1 points per game in college and shot 45.3 percent from downtown. As a senior in 2003, Korver posted 17.8 points per outing and made an awesome 129 of 269 three-pointers (48.0 percent) while repeating as Missouri Valley Conference Player of the Year.
After being drafted in the second round of the 2003 NBA Draft (his rights were traded from New Jersey to Philadelphia), Korver averaged double-figures in each of his last four seasons with the Sixers. Starting in 2008 he spent almost three full seasons in Utah, where he drained a ridiculous 53.6 percent of his three-point heaves in 2009-10. In two years with the Bulls, he averaged more than eight points per game and made at least 41 percent of his threes on both occasions.
STEAL OF A DEAL … The Hawks acquired Korver from Chicago prior to the 2012-13 campaign for…wait for it…a trade exception and cash considerations. General manager Danny Ferry has made a number of shrewd moves during his short time in Atlanta (signing Paul Millsap for $19 million over two years among them), two involving Korver. After Korver's contract expired at the end of his first season with the Hawks, Ferry inked him this summer to a four-year, $24 million deal. The 10-year veteran was rewarded for putting up 10.9 points, 4.0 rebounds and 2.0 assists per game in 2012-13—all season-bests since 2006-07. So far this season he is averaging 12.7 points per night to go along with 3.9 rebounds and 2.6 assists while shooting 51.5 percent from three-point land, on pace for the second best three-point performance of his career.
"I think we're all just happy to see Kyle healthy," Budenholzer told atlantahawks.com following the game in which Korver, who had missed the four previous contests due to a rib injury, set the new record. "He's a heck of a shooter and he showed that tonight. He really adds to us. I think he's really underrated as a team defender and what he adds to both ends (of the floor)."
For his efforts, Korver has been given 83 starts in 97 games—including 23 of 23 this season—during his tenure with the Hawks. Like it or not, no matter how much he is bringing to the table for a team that is currently one of the NBA's surprises, Korver's streak will re-main in the news as long as it's still in progress. At least now, though, he no longer bears the burden of the chaser as opposed to the record-holder.
"It feels good," he told the team's website. "Glad it's done. I'm proud of it for sure. I just said 'Thank you.' I'm not out there creating the shots. I'm the product of good team basketball; of setting screens and good passes, floor spacing and all that. A lot of these guys have been here throughout this whole streak. I just had to say 'thank you.'"
Then again, maybe it's Atlanta that should be saying a big 'thank you' to Kyle Korver.