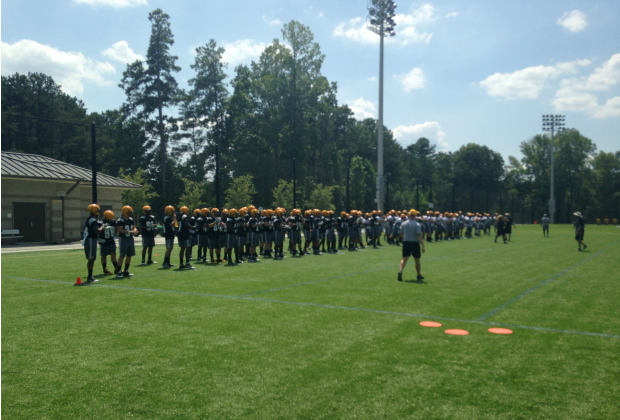 Brian Jones
With the inaugural season only a month away, the Kennesaw State football team reported to campus on Friday, and the team took part in the first practice of fall camp on Saturday.
This was the first of 29 practices for the Owls, and it took place at the Perch located at the recreational fields right next to Fifth Third Bank Stadium. The practice lasted two hours, and it will be just one of many that will take place in the middle of the afternoon.
Last year, the Owls took part in fall practice and it was the first time the team practiced together. So there were some growing pains in terms of how to practice at the college level. The team improved during the spring, but they still made mistakes when it came to executing on offense and defense.
Now that it's the first fall camp before the regular season, they will be expected to take the next step, but head coach Brian Bohannon knows that it will take time.
"The biggest thing for our football team is we have to take one rep (repetition) and maximize that rep and move to the next one regardless of whether we are pads or shorts," Bohannon said. "We are a young football team and we're trying to grow, win that rep and let's move to the next one, win that one and move to the next one and kind of move on from there."
One of the players that will be expected to help this team grow and win is linebacker Dez Billingslea and he knows that this team has some work to do this month in order to be ready for East Tennessee State.
"It was the day so everyone is trying to get back into the football mode," Billingslea said. "Of course we're in running shape, but there are two different kinds of shape, there is running shape and there is football shape. As far is it being the first day it was alright, but obviously we have to get better."
Linebacker Izzy Sam echoed Billingslea sediments, but he feels the team had a good start to camp.
"It was a little shaky," Sam said talking about practice. "It was the first day. There was some stuff we can improve on. But we had good energy. We had a good first day."
For the Owls, they will have to get better each time they step out on the practice field because they want to prove they can make a good impression in their first season. And they will have plenty of time to get better as they will have seven more practices before their first scrimmage on Saturday.  The final practice of fall camp will be on Sept. 1 which is two days before the Owls take the field against East Tennessee State in Johnson City, Tenn.