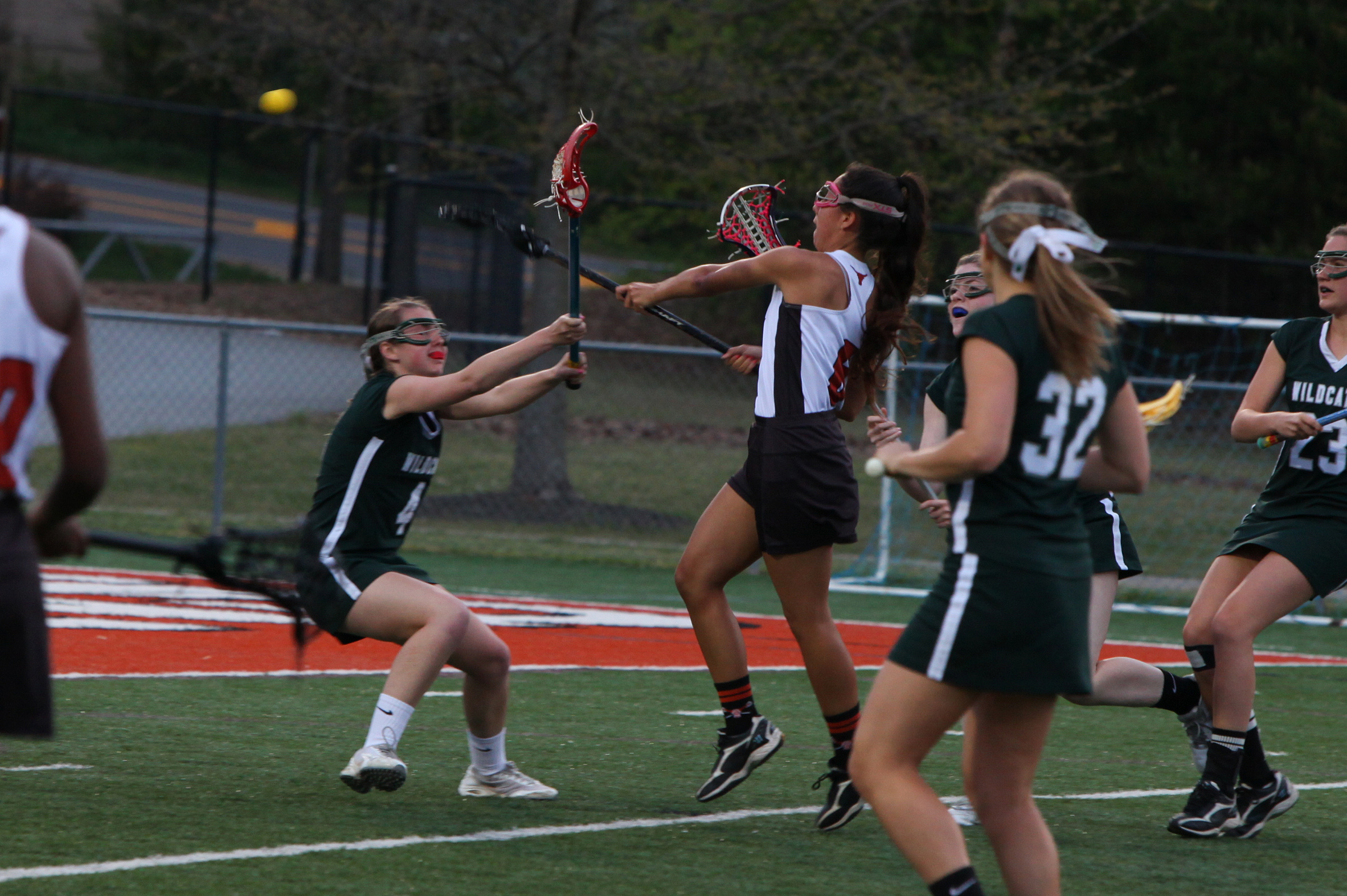 Photo by Deanna Fiveash
The boys crowned two first-time state champs on Saturday and the girls saw history as well.  Milton won their ninth state title in the 10-year history of the trophy and the Kell girls defeated Westminster 11-10 to became the first girls lacrosse team from Cobb County to ever win a state title.
GIRLS
Class AAAAAA
Milton 16, Walton 13: Brooke Winsness and Emily Velez scored four goals apiece to lift host Milton over Area 2 rival Walton. The top-ranked Eagles beat Walton 18-8 in the regular season and finished the season undefeated against in-state opponents. Walton chipped away at its early deficits until finally tying it up at 10-10 with 15 minutes remaining. Milton doused the Raiders rally with a 5-0 scoring run and put the game out of reach with under eight minutes to play and the five goal advantage.
Class A-AAAAA
Kell 11, Westminster 10: Kell took an 8-7 lead into the half and Sarah Bialecki broke a 10-10 tie with the game-winning goal with 2 minutes to lead the Longhorns to their first state title. Westminster goalie Katie McGahan made another great save, but was flagged for 10 seconds as she looked for the outlet pass after the save. Kell received the possession and took advantage of it seconds later when Bialecki netted the game winner. Leslie Ferguson led Kell with three goals and one assists and Talen Francis, Haley Swift and Hannah Nemeck each scored a pair of goals. Four-time defending state champion Westminster was led by Cabell Zakas, who scored a game-high five goals. Kell finished the season 20-1, setting a school record for most wins.
BOYS
Class AAAAAA
Roswell 6, Lambert 5: Host Roswell took a 5-3 lead into halftime and won a defensive battle in the second half to hold off two-time state champion Lambert. The Longhorns outscored Roswell 2-1 in the third quarter, but Roswell held Lambert scoreless in the final period. Roswell fell to Lambert 10-9 during the regular season and finished the season (17-3). The battle-tested Hornets had a brutal end of the season schedule, but managed seven consecutive wins heading into the championship, all against teams with winning records.
Class A-AAAAA
Northview 9, Lovett 8: Matt Biondich led visiting Northview (21-1) with three goals as the Titans held off Lovett for their first-ever state title. Biondich scored netted his hat-trick with 3:37 remaining to give Northview a 9-7 lead and the Titans held on. Northview goalie Connor Redmond had 15 saves and Chad Johnson sparked the offense with a pair of timely goals. Lovett has won three state titles and finished the season 18-4. This was the only state championship game that featured unfamiliar opponents and was not a regular season rematch.