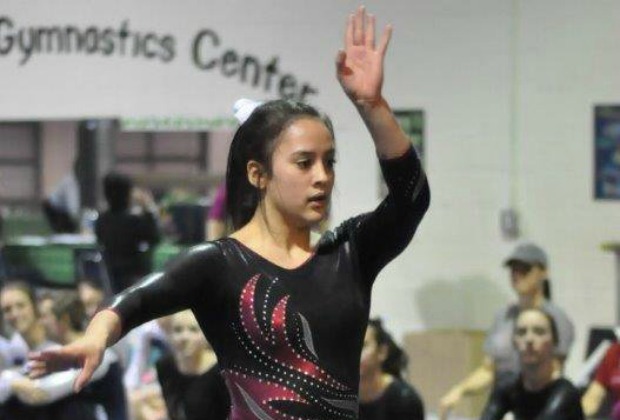 Lambert High School
Two times is the charm for Lambert. The Forsyth County school, in its second year as a program, won the state gymnastics championship Friday night at Westminster, edging two-time defending champ Tift County 109.575-108.9.
"It's incredible," said Lambert coach Christine Naffky. "The girls worked so, so hard every day. They're so passionate about the sport. It's so nice to feel this way this year."
The meet was so close that the teams were unsure of the winner until the official announcement.
"We thought at the end of the third rotation we were up," said Naffky. "We didn't know (the winner) until they announced it."
Lambert came in second in last year's finals behind Tift County, and took third behind the Blue Devils and Lassiter at the House of Troy Invitational earlier this season.
Sophomore Katie Stuart was the Longhorns' top competitor, finishing second overall. Stuart won on bars, came in second on floor and was third on vault. Senior Beth Roberts of Tift County repeated her individual title with a total score of 38.150 to Stuart's 37.8. Sophomore Sydney Goad of Newnan took third place with a 37.2.
Roberts won vault and floor and was runner-up on bars. Goad came in second on vault and fourth on beam and floor. Cartersville's Sydney Barrett won on beam while Carrollton's Jennifer Brandenburg and Katie Beth Carter took and second and third, respectively.
Logan Nugent of Buford finished fourth after scoring a 36.5 while Libby Barbour of Tift County rounded out the top five with a 36.350. Nugent came in third on floor and fourth on vault while Barbour's strongest finishes were third on bars and sixth on vault.
Carrollton took third place in the meet with 107.4 points while Buford, in its first year as a program, came in fourth with a 106.725. Newnan scored 106.025 and Lassiter, with a 105.725, rounded out the top six.
Team results
1. Lambert – 109.575
2. Tift County – 108.9
3. Carrollton – 107.4
4. Buford – 106.725
5. Newnan – 106.025
6. Lassiter – 105.725
Overall individual results
1. Beth Roberts, Tift County – 38.150
2. Katie Stuart, Lambert – 37.800
3. Sydney Goad, Newnan – 37.200
4. Logan Nugent, Buford – 36.500
5. Libby Barbour, Tift County – 36.350