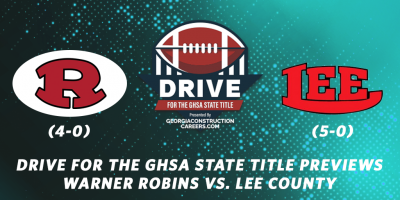 The fourth televised game featured in the 'Drive for the GHSA State Title' series pits hosting Class 5A No. 1 Warner Robins (4-0) against Class 6A No. 2 Lee County (5-0) in a blockbuster matchup to be broadcast on PeachtreeTV at 8 p.m. Friday.
The teams have met three times – 2010, 2011 and last season. Warner Robins won 48-35 in 2010 and 56-14 in 2011. Lee County won last year's contest 27-7 at home.
Lee County has victories over two ranked programs this season against Class 4A No. 4 Carver-Columbus 25-22 on August 21 and against Class 7A No. 7 Lowndes 24-21 on Sept. 10. The Trojans have also beaten Jackson-Atlanta 64-0, East Ridge (FL) 60-0 and Lithia Springs 64-14 last week. Warner Robins has also beaten two ranked programs – Class 6A No. 7 Valdosta 48-20 on August 20 and Class 6A No. 9 Northside-Warner Robins 49-7 on Sept. 10. The Demons also beat Archer 50-34 and Houston County 49-9 last week.
Lee County freshman Ousman Kromah has 51 carries for 663 yards and seven touchdowns to lead the Trojan's rushing attack. Lee County – averaging nearly 290 yards rushing per game – has seen significant production from Julius McClellan (339 yards, four touchdowns), Reginald Williams (185 yards, four touchdowns), Braxton Honer (79 yards, two touchdowns), Leon Allen (46 yards, one touchdown) and Debo Roberts (26 yards, one touchdown).
Quarterback Christopher Martin is 41-of-69 passing for 570 yards and 10 touchdowns and has passed to four different players for touchdowns – Jevell Fugerson (four TDs), Tyrus Washington (three TDs), Willie Williams (two TDs) and Tion Garmon (one TD).
On defense, Lee County's Wiley Greer leads with 14 solo tackles, 20 assisted tackles and a sack. Malcolm Jones, Malik Brackens, Juwan Bailey, Jaron Willis, Kason Hooks and Omar White will all factor in the defensive pressure against the Demons.
Warner Robins features an extremely balanced offense which is averaging 240 rushing and 230 passing yards per game. Quarterback Christion Lane is 46-of-76 passing for 762 yards and 10 touchdowns with three interceptions. Jeff Davis is 5-of-6 passing for 123 yards with one touchdown and one interception.
Leading the receivers stall is Deuce Petty who has 12 receptions for 305 yards and four touchdowns. Daveon Walker (three touchdowns), Antwon Jackson (one touchdown), DK Sturn (one touchdown), Malcom Brown (one touchdown) and Cam Flowers (one touchdown) provide Lane a multitude of options through the air.
On the ground, the Demons are led by Brown who has 90 carries for 549 yards and nine touchdowns with a 59-yard run as his longest of the season. JaFrederick Perry has 20 carries for 230 yards and three touchdowns. Lane has rushed for one touchdown on 15 carries and Sturn has three carries for 36 yards and a score.
Jay Carter leads the defensive efforts and has 25 solo and 14 assisted tackles with nine tackles for loss. Perry, Elijah Antonio, Chayce Smith, Darius Perkins, Vic Burley, Carter, Montrez Dinkins and Nathaniel Sanford will help sure up the Demons defense.