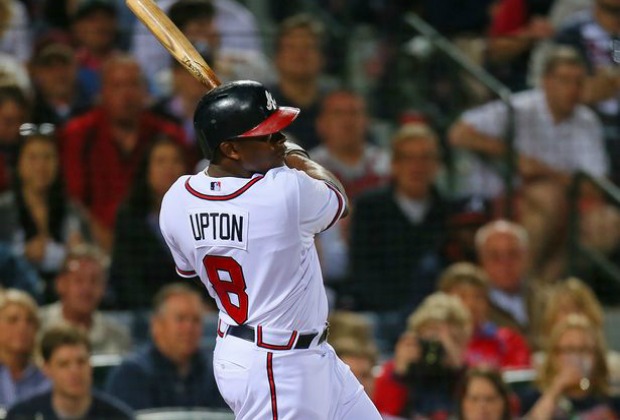 Photo by Curtis Compton
Braves' manager Fredi Gonzalez continues to maneuver with a lineup that has scored the second fewest runs in all of Major League Baseball so far this season. Second baseman Tommy La Stella briefly tried his hand in the leadoff spot starting last week but went 2-for- 20 in that role. Enter B.J. Upton, who topped the batting order on Tuesday at Houston.
Upton has plenty of experience leading off, with more than 750 plate appearance in that situation throughout his career.
"I'm used to being there and setting the table, being able to run a lot more," the center fielder told the Atlanta Journal Constitution. "I think it gives us an opportunity to maybe move the baseball around the infield a little bit more, possibly throwing some hit-and-runs and things like that, just trying to get a little more things going up there. Hopefully, I can get on base a lot more and give these guys behind me a chance to drive me in."
There were no such chances on Tuesday, although that was in part due to the fact that B.J. hit a home run in the third inning. It was his lone hit of the game, but it proved to be one of the differences in a 3-2 victory for Atlanta. Justin Upton homered in the fourth, allowing the Uptons to become the third pair of brothers in major league history to go deep in the same game a record four times. Vladimir and Wilton Guerrero and Jason and Jeremy Giambi are the other sets of brothers who have hom- ered in the same game four times.
NECESSARY TINKERING …
Gonzalez has been forced to make plenty of tweaks to the lineup this season, some because of injury. That was the case in the latest move on the mound, which saw Gavin Floyd head to the disabled list as Alex Wood rejoined the rotation. Floyd, who was just returning from Tommy John surgery, suffered a broken elbow last Thursday while earning a win at Washington. The 31-year old underwent surgery on Wednesday and could miss the re- mainder of the season. Wood began the year as a starter then spent six weeks in the bullpen before being assigned to Triple-A Gwinnett. The 23-year- old southpaw is 5-6 with a solid 3.43 ERA in 18 games (seven starts). He got the start on Wednesday at Houston, but results were not available at press time.