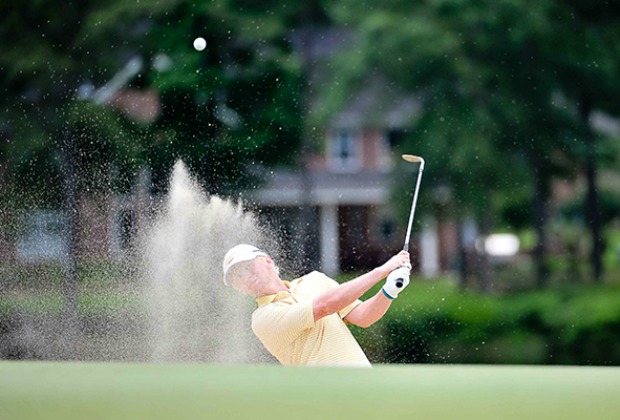 Georgia Tech athletics
Golfers from Georgia high schools have an advantage when it comes to competing in the sport at higher levels. Take for example the Georgia Tech golf team, which was in second place through Thursday at the NCAA men's golf championship at the Capital City Club in Milton.
"We've played it enough to know what to do," said Tech coach Bruce Heppler about playing the local course. "This particular experience for our team, I think the local thing was huge."
According to Heppler, having three players who grew up nearby helps his team greatly in this tournament, which happens to be the most important one of the season. Ollie Schniederjans played high school golf at Harrison, Seth Reeves played at Peachtree Ridge and Anders Albertson golfed at Etowah.
"The fact that there are five guys playing (in a national championship) for the first time, knowing where to go, knowing what was out there waiting on them I think was a huge advantage," he said. "If you take these guys somewhere where they've played one round and they hadn't seen it, it could've been a little more unnerving for them."
The Yellow Jackets have a decent shot at winning their first national title this weekend. Three of Tech's five golfers in the tournament played at metro Atlanta high schools and are now stacking up nicely when compared with some of the top amateur golfers in the world.
"It prepared me a lot," said Reeves, a junior. "There's a lot of good players in Georgia. Growing up in Georgia, playing against some of these kids since I was 10 or 11, there's just a lot of good players out here and a lot of good competition."
It makes it easier for Heppler to do his job, which includes recruiting. Why go outside the state when some of the best talent is right here?
"You start at home," said Heppler. "It's the kids that grow up in the area. And obviously we're probably splitting them with somebody else. It's fun to have some local guys and some kids here."
With some of the nation's most prestigious tournaments being played on Georgia courses, it helps to have a local flavor on the team, guys who are used to the variety of courses and conditions found in the Peach State.
"There's so much variety," said Albertson, a sophomore. "The quality overall is probably the best golf in the South, at least. I can't speak for other parts of the country, but I feel like growing up in metro Atlanta you get to see short courses, long courses, hilly, everything. You kind of learn to play everything. And when you travel, it makes it a little easier because you've already been there and done that."
The local guys seem to have benefited from the national championship being held on familiar grounds. At press time, Tech was in second place. Couple the Jackets' success this year with the prosperity in the past of UGA (1999 and 2005 national champs, 28 SEC titles) and Augusta State (2010, 2011 national champs) along with consistent success from programs like Georgia Southern and Georgia State, and the Peach State becomes of the best states in the country for college golf.
And those programs have thrived off in-state talent for years.
While the state is more widely known for its football, basketball and baseball talent, Georgia is also a golf hotspot.