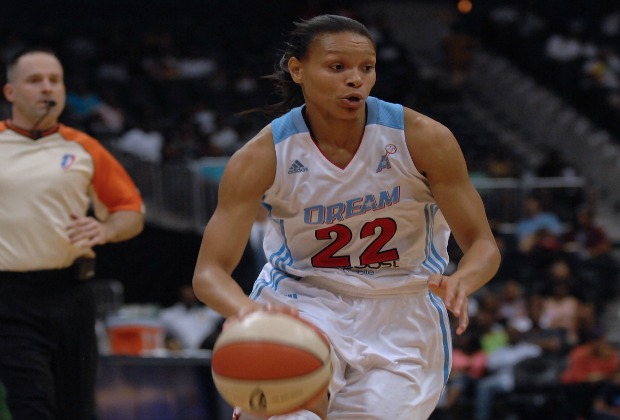 Sonny Kennedy
The regular season is over and the playoffs have begun. Game 1 of a best-of-three series against Indiana started last night at Bankers Life Fieldhouse in Indianapolis. For the second straight year, Indiana and Atlanta have drawn each other for what should be a hard-fought series. Atlanta took Game 1 75-66.
The Dream come into the postseason seeking a third consecutive conference title and their first WNBA title. Indiana has won the conference just once back in 2009 and is also seeking its first title.
The two best players and possibly this year's MVP will be at the forefront of this matchup with Tamika Catchings leading the Fever and Angel McCoughtry starring for Atlanta.
Catchings is one of the most accomplished players in the history of women's basketball. The 33-year-old is a seven-time WNBA all star, four-time defensive player of the year, three-time Olympic gold medalist and member of the WNBA's all-decade team (2000-2009). Catchings was also 2002 WNBA rookie of the year and last year's MVP. In her 11th season this year, she led the team with 17.4 points per game.
McCoughtry should win the MVP award for the regular season after she led the league in scoring for the first time in her career. The four-year starting forward could win defensive player of the year as well, after leading the year in steals.
This first-round matchup would make a great conference final but both teams struggled at different times during the season, allowing Connecticut to gain the top seed. Indiana and Atlanta finished the regular season with a flourish. The Dream won seven of their last nine games and posted a 19-15 record. The Fever won their last two games including a 33-point win over Tulsa to complete the regular year.
PEAK PERFORMER
McCoughtry won the WNBA's Peak Performer award given to the league's top scorer during the regular season. She won the award after leading the WNBA with 21.4 points per game. This is the first time an Atlanta player has won this particular honor. The Peak Performer award is a testament to McCoughtry's consistency over her four-year career. She has averaged 19 points-per game during her career and finished second in league scoring last season with 21.6 per game. This could be the first of a number of trophies this season for McCoughtry. She joined Sheryl Swoops as the second player in WNBA history to lead the league in scoring and steals.