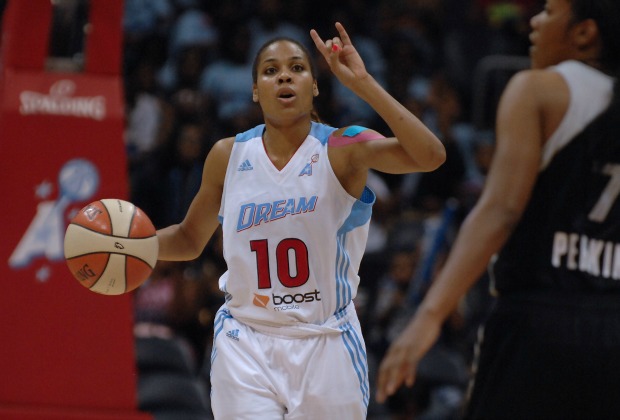 Photo by Sonny Kennedy
The slide has continued for the Eastern Conference-leading Atlanta Dream. Atlanta dropped five straight games, a stretch that includes a 0-4 road trip. The losing streak has sent the Dream spiraling in the midst of a 2-9 stretch. They now head back home to the friendly confines of Philips Arena, where they have gone 11-4 this season. The Dream hold a two-game conference lead over the second- place Washington Mystics with just three games remaining in the regular season.
ANGEL'S WINGS CLIPPED …
Atlanta's latest defeat came on Sunday against the Chicago Sky, who are in a tie for third place in the East, via an 80-69 decision. Star player Angel McCoughtry was unable to suit up for the Dream due to a foot injury. Mc- Coughtry's production has severely declined as of late and is likely a cause for Atlanta's on-going slide. In her previous three games from the field, McCoughtry went 7-16, 0-5 and then 5-20 before sitting out Sunday's game with foot tendinitis. Sancho Lyttle and rookie Shoni Schimmel tried to carry the load without the league's fourth-leading scorer by scoring 16 and 15 points, respectively. The balanced scoring attack of the Sky proved to be too much, however, with five players scoring in double- figures.
The Dream's next game was on Wednesday against the league-leading Phoenix Mercury (results not available at press time). Their home finale against Tulsa is on the Friday at 7:30 p.m. and it will be fan appreciation night.
PLAYOFF PICTURE …
With the playoffs looming and the team's ticket already punched, it's time to preview some potential first-round matchups. If the playoffs started today, Atlanta would face the Indiana Fever—who currently are tied with Chicago (Chicago holds the tiebreaker). The Dream went 3-2 against the Fever this year and all three of their wins came on the road. The Fever have to feel good about their chances, though, as they have handed the Dream two of their four losses at home this season.
If Indiana rises and Chicago falls, Atlanta will have to deal with the Sky, who have gone 3-2 against Atlanta. The Sky boast the only other two victories at Philips Arena this season, so Atlanta must be wary of that. Regard- less of the opponent, the one key will be getting McCoughtry back healthy. Head coach Michael Cooper believes his star may miss one more game but expects her to be healthy dur- ing their postseason run.