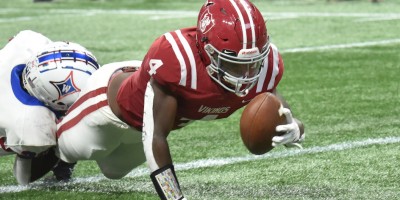 The Lowndes Vikings regular season will begin on Saturday, August 20, at Martin Stadium as Lowndes will host two games of the inaugural Georgia-Florida Classic. The first game of the cross-state double-header will feature Colquitt County vs. Deerfield Beach High (Deerfield Beach, FL) with kickoff at 5 p.m, followed by the second game of the double-header that will pin Lowndes against American Heritage (Plantation, FL) at 8 p.m. Both Florida teams finished the 2021 year ranked in the top 15 of their respective classes in Florida.
Lowndes Athletic Director Danny Redshaw talked about how the event came together, the firm they used to coordinate the games, and a close decision to have the event at Florida State University before agreeing upon Martin Stadium in Lowndes.
"Darrell Funderburk, the former AD of Colquitt, and I talked about maybe playing a double-header down at FSU. We are both very close to that," said Redshaw. "They (Colquitt) are 40 minutes from Tallahassee. "We are probably about 80 minutes from Tallahassee. We brainstormed and kind of put this thing together as a kickoff classic. Prep Gridiron Logistics helped us put it together."
Lowndes went (10-3, 3-0) last year and made it to the quarterfinals until their loss to the eventual state champion Collins Hill Eagles. Lowndes played in the Corky Kell last year against Walton, but this year will be playing in the inaugural Georgia-Florida Classic. In addition to this game, Lowndes will play three more Florida schools this year. Those matchups will include Gadsden County (Havana, FL), North Miami Beach (FL), and Dunbar (Fort Myers, FL). Lowndes will play Dunbar during their homecoming week this year.
"I think it's going to be good exposure for both schools. We are playing nationally known programs, and we both are nationally known programs," said Redshaw. "I think it is good for South Georgia football in general. It gives us our brand down here in South Georgia."
Colquitt County went (8-3, 2-1) last year and lost in the first round to Walton. Colquitt is undergoing a new regime with the hiring of head coach Sean Calhoun and new AD Cleve Edwards. Colquitt last played in the Corky Kell against North Gwinnett in 2019 and is excited about the inaugural Georgia-Florida classic.
"It's good competition, and that is what we are looking for. We feel like we got a good football team," said Edwards. "We want to put good people in front of us and our kids. We hope we are playing late in the season, and playing good people prepares you for it."
As far as the Florida schools, they both made the playoffs last year. Deerfield Beach is located between West Palm Beach and Fort Lauderdale in Broward County. Deerfield went 9-3 last season before being eliminated in the Florida High School Athletic Association's Class 8A State Championships. 
American Heritage is located in Plantation, Florida. American Heritage went 6-4 last season and won four straight games before their 2nd round loss in the playoffs to Central (Miami) in Class 5A.
Lowndes and Colquitt County plan to make this an annual event in the future, with next year's location already announced. Next year's event will take place at Mack Tharpe Stadium in Moultrie, Georgia, home of the Colquitt County Packers.
"It's going to be a two-year deal, and I think American Heritage, if I am correct, has committed to next year," said Redshaw. "Next year will be in Colquitt, and they will be the hosts. We are going to try to make this an annual Georgia-FL classic."
Colquitt's AD talked about the possibility of playing other teams across the country and what needed to be done to strike a deal potentially.
"Obviously, we are open to many things, and we want it to benefit our school and our program," said Edwards. "We want publicity for our kids. That is a big deal for us. Colquitt County already has good branding, and putting quality opponents in front of us is the biggest thing."
Regarding how to watch the game, the best way is in person or to stream the game on FloFootball, where you can download the app via iOS or android. The Georgia-Florida Classic ticket will not be included in the season package for Lowndes season ticket holders. The tickets will be sold separately and will be suitable for both games for $15.