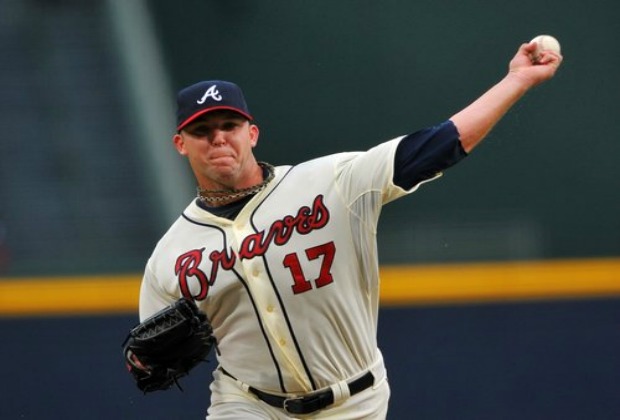 Brant Sanderlin
Anytime a new pitcher is added to the Braves' starting rotation, especially one in a move on the trade deadline, fans will immediately want to compare him to the past greats of the organization. Fans will recall the free agent signing of Greg Maddux or the acquisition of John Smoltz. Whenever a lefty is added, of course Tom Glavine comes to mind.
Mike Minor went through the comparisons after he was drafted out of Vanderbilt, and many wondered last week about the newest Brave Paul Maholm, who was brought over in a deal with Chicago.
Entering Saturday's start, Maholm was 5-0 with a microscopic 1.02 ERA in his past six starts. In his Braves' debut, he surrendered just three runs and six hits while striking out eight batters in seven innings, but he was charged with the loss in a 3-2 game. The Braves tied up the score at 2-2 in the sixth inning, only to see Maholm give up his second home run of the afternoon to Justin Maxwell, who had a career-high four hits.
Will Maholm bounce back? Were the comparisons to Glavine extreme?
"Those guys are obviously Hall of Famers, so you can't really compare yourself to those guys," said Maholm about pitching from the same mound as Glavine, Smoltz and Maddux. "As a group we expect to win the division and make the playoffs and go deep, and make a name for ourselves."
Unlike Glavine and Smoltz who carried the rotation for years, Maholm is just one piece in a strong rotation. Experts would point to Tim Hudson as the ace with Maholm as perhaps the No. 3 guy behind Tommy Hanson.
""We're not really trying to compare with the guys in the past, just do our thing," said Maholm.
If Maholm continues to pitch like he did Saturday, though, expect the Braves to give him more run support as the team heads down the stretch. Maholm was bitten by a bit of back luck as Atlanta just missed taking the lead in the sixth and earlier had a chance for some runs before an inning-ending double play wiped away the opportunity. If Maholm can continue his strong stretch, he will be pitching in the postseason, something he's never done in his career, but something Braves' pitchers must get used to doing.
"The run (of division titles) they had is something you really can't compare to," said Maholm. "As a pitcher, I expect to win every outing. I expect to go out there and compete. Obviously being in a pennant race, it's going to be fun. You're not going to win every game, but you come in here with the same (win every night) attitude to make sure you are prepared to win."