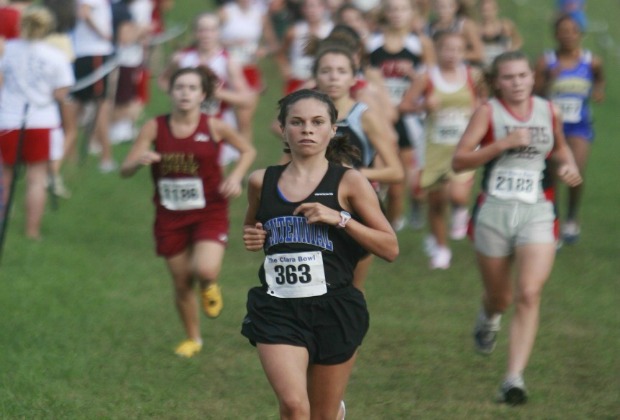 Walter Pinion
Class AAAAAA No. 6 Marietta won the Championship race at the Coach Wood Invitational at Gainesville. Austin Sprague of St. Pius X won the individual race. In the varsity race at the Coach Wood, Class AAAAAA No. 8 North Cobb took home top honors while Justin Weegar of Evans won the individual race.
In the girls Championship race, No. 2 Walton took first place ahead of No. 3 Brookwood. Johns Creek's Allie Buchalski won the individual race. In the varsity race, Lakeside-DeKalb captured first place as the Vikings' Jennifer Cora finished first.
Class AAA No. 10 Grady won the Atlanta Public Schools boys meet ahead of runner-up North Atlanta. However, the Warriors' John Rudd won the individual race ahead of Washington's Nicholas Alexander and Grady's Adrian D'Avanzo. In the girls meet, North Atlanta won the city championship ahead of Class AAA No. 9 Grady. The Grey Knights, however, placed the top two runners in the individual race as Isabelle Taft won it and Grace Powers came in second.
Class AAAAA No. 1 McIntosh won the Fayette County Championships by placing five runners in the top nine. Brad Hort won the race for the Chiefs while teammate Sydney Speir came in second. John Raville of Our Lady of Mercy took third. No. 8 Starr's Mill took second in the meet. In the girls championships, McIntosh also won. The No. 3 Chiefs also place five harriers in the top nine overall. Mackenzie Nail of Whitewater, however, won the individual title while Melanie Hamilt of McIntosh came in second just ahead of teammate Alyssa LeClaire.
Class AA No. 1 Westminster won the Wesleyan Invitational ahead of second-place Centennial, which is ranked No. 9 in Class AAAAAA. Host Wesleyan, the No. 2 team in Class AA, came in third. Austin Dillon of Westminster won the race and was followed by Mitchell Smith and Bryan Koblitz of Centennial.
Also ranked No. 1, the Westminster girls won the girls meet at the Wesleyan Invitational. The host Wolves came in second. Taylor Tuttle of Providence Christian won the race ahead of Westminster's Sahara Fletcher. Northview's Lindsay Billings came in third.