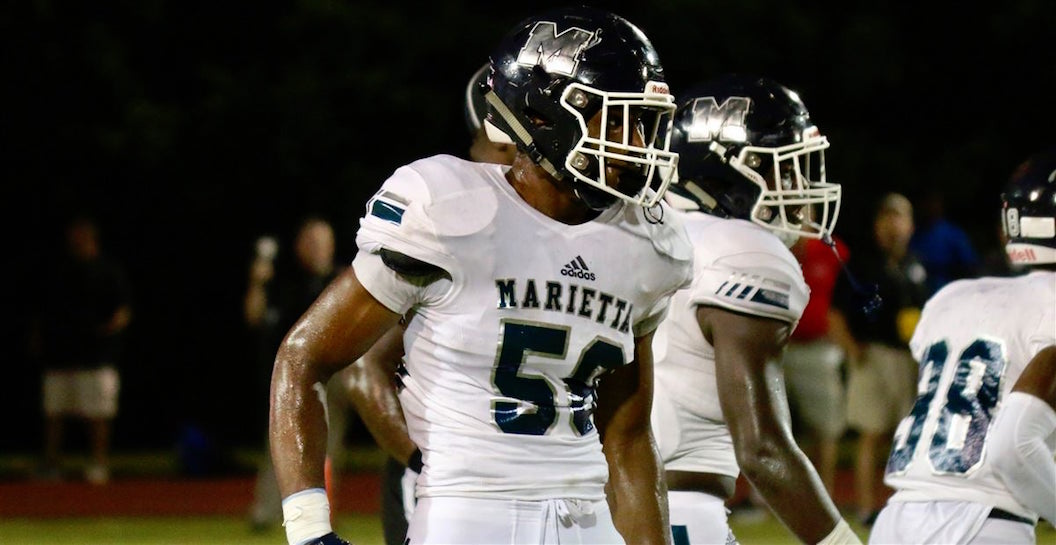 Photo by 247sports
Marietta's roster is loaded with talent this year and includes a state-best five first-team preseason selections. Among this group is defensive end B.J. Ojulari, who will be making significant contributions on Marietta's defensive line for the third straight season in 2019. Ojulari took some varsity snaps as a freshman and then had a breakout sophomore season where he starred alongside his older brother Azeez Ojulari—a U.S. Army All-American and current Georgia Bulldog.
Azeez (11) and BJ (9) combined for 20 of the team's 31 sacks in 2017 as Marietta made a run to the state quarterfinals. He, quarterback Harrison Bailey and teammate Arik Gilbert were all three named MaxPreps All-Americans for the Class of 2020. This past season, Ojulari posted a career-high 90 solo tackles (104 total) with 18 tackles for loss, five sacks and a blocked field goal.
Entering his senior year, Ojulari remains uncommitted. He was offered by Georgia, but strong interest from Auburn, LSU and Tennessee, an additional 14 Power 5 offers, plus an official visit planned for Alabama in September will keep his recruitment journey ongoing.
Ojulari's speed off the ball will be a challenge for opposing offenses on every snap and his 6-foot-3, 222-pound frame and 42-inch vertical gives him the ideal skillset for disrupting opponents.  Marietta's undeniably defense struggled this past season, but the Blue Devils are coming in much deeper on that side of the ball heading into 2019. Additionally, opening the year against the Rome Wolves—which served up a 51-41 defeat at last year's Corky Kell Classic—is going to be a great measuring stick for Olujari and the Marietta defense.