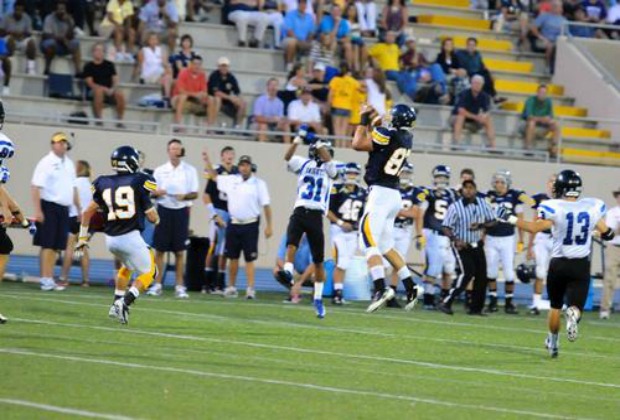 Elisa Herring
Central Gwinnett's Trey Johnson has been committed to Auburn since August 2011, but that hasn't stopped coaches of other schools from coming to Lawrenceville to scout the linebacker. Johnson has also been hitting the road of late, visiting other schools with the uncertainty of Auburn's coaching situation. Johnson has set up official visits to Ohio State and USC in November and January, respectively. This past weekend, Johnson unofficially visited Gainesville to take in Florida's win over South Carolina. D.J. Durkin is recruiting Johnson for the Gators. Keep an eye on Johnson's recruiting process, especially if there is a coaching change at Auburn.
Greg Taboada stands 6-foot-5, 235-pounds and is quickly moving up in recruiting circles. Early on it seemed a two-school race for the Marist product between Alabama and Vanderbilt, but another school has stepped forward. After picking up offers from Virginia, Arkansas, Oregon, Boston College and Alabama, Taboada visited Stanford over the summer and picked up an offer last month. Taboada has an official visit planned to Alabama on Nov. 23, but don't sleep on Stanford, who has been churning out successful tight ends over the past few seasons.
Who were some of the key players to step up for Miller Grove in the Wolverines' win over Stephenson over the weekend? Ken Allen and Xavier Johnson helped Miller Grove put points on the board, and defensive end Courtney Miggins helped on defense. Miggins doesn't have many offers but is one of several players flying under the radar according to 247sports' Rusty Mansell. The 6-foot-5 product is a three-star per 247sports and holds offers from Ball State, Louisville and Mississippi State.