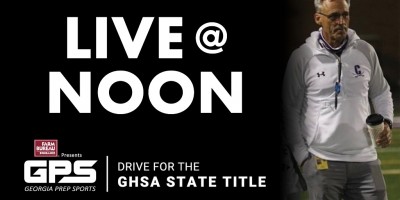 The 177th episode of the Georgia Farm Bureau "Georgia Prep Sports: Drive for the GHSA State Title" video podcast will feature Calvary Day head coach Mark Stroud as he gets ready for a quarterfinal road-trip to Class 3A No. 1 ranked Cedar Grove. The Cavaliers improved to 11-0 with their second-round win over Dougherty and are averaging a school-record 46 ppg this season.
Before Stroud joins the show at 12:20, Sager will open the Monday broadcast with Score Atlanta Reporter, Writer, Football Analyst, Commentator & Content Creator Najeh Wilkins to talk about Walton's win over Buford and the state of Georgia High School Football heading into the quarterfinals.
Host, Craig Sager II will close out the show with more second round highlights and a breakdown of the quarterfinals as we celebrate Thanksgiving football and the incredible teams still battling for this year's ultimate trophy.
The Drive to the GHSA State Championship podcast is produced by PlayOn Sports, which runs the National Federation High School Network, and airs Mondays, Wednesdays and Fridays starting at noon.