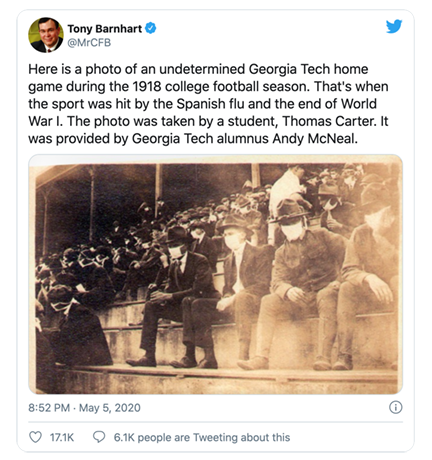 This year's nine-game Corky Kell Classic will require that masks or facial coverings be worn by those participating and attending the event. Over the past months, Corky Kell leadership has consulted with state public health officials, and has held discussions about various safety protocols with the many different districts that will be represented in this year's 18-team, nine-game lineup that will take place at nine different high schools, all televised on Peachtree TV. After all considerations, it has been concluded that employing this mandate will be the most effective way to ensure the safety of the players, fans, coaches, officials and staff.
"We want to do everything we can to make the safest possible environment," said Corky Kell Classic executive director Dave Hunter. "We are extremely concerned about the safety and well-being of our players and fans and we got advice from the medical community that recommended fans, players not participating in the game, cheerleaders and people wear a mask."
The ongoing COVID situation has already forced the annual kickoff event to make significant adjustments, already moving from 11 games to nine six weeks ago. Additionally, the previous jamboree style and double-header format was changed this past week when the Classic moved all nine of its games to separate locations. A game-day plan for social distancing is in the final phases, and other measures such as only offering pre-packaged food and bottled drink options at concession stands are already being prepared for.
"Wearing a mask is not a huge inconvenience and we just feel like it is something that is reasonable," said Hunter. "There's a lot of people wearing masks already when they are out in public and I've talked to the public health officials as recently as this morning and the numbers are falling. So, I think it is critical to follow the health guidelines. We want to play the whole season. We don't want to just play one week and have to miss another week because people didn't do what was in the best interest of not only them, but everyone around them. You can say it is a courteous consideration, but it is really far greater than that."
Fans attending this year's Classic can wear whatever type of facial covering they prefer and there will be an extra supply of disposable masks made available at the gates for fans that do not have one. Creating a safe game-day environment will be a collective effort of everyone involved, including coaches, officials and players. For officials, they will be required to wear facial coverings whenever gathering for a discussion on the field. Additionally, players that are dressing out but not playing in the game will be expected to wear masks when their helmet is off. The players will also be socially distanced on the sidelines and the cheerleaders will be expected to wear masks when they are not performing cheers. The mask protocols also extend to coaches, training staff and other personnel that will be on the sidelines. Also, there will be no visiting bands attending the games and home bands will not perform at halftime but will be able to play in the stands. Band members will be placed away from the fans and socially distanced from each other, and will wear masks when they are not playing.
On the television and radio broadcast side, play-by-play and color commenters will be socially distanced in the booth, but masks will not be required while they are calling the games. Corky Kell officials and volunteers working the games will wear masks.
The 2020 Corky Kell Classic will kick off Wednesday, Sept. 2 at Cherokee High School with the Warriors hosting Carver-Atlanta. This, and each of the other eight matchups, will all be televised for those that do not attend and want to tune in on Peachtree TV. Cherokee, Lowndes and Carrollton are scheduled to do radio broadcast.
"We are working closely with CBS46 and Peachtree TV and we are going to have great television coverage of the event," said Score Atlanta President and Corky Kell executive I.J. Rosenberg. "If people are not comfortable wearing a mask then I suggest they stay at home and watch on television. These players, coaches and schools have done an incredible job to get to this point. Now it is time for fans of each of these schools to step up and help them keep playing football and the best way to do so is wear a mask.''
2020 CORKY KELL CLASSIC SCHEDULE
(All games on Peachtree TV)
Wednesday, Sept. 2
5:30 p.m.: Carver at Cherokee
8:30 p.m.: Mays at West Forsyth
Thursday, Sept. 3
5:30 p.m.: Brookwood at Dacula
8:30 p.m.: McEachern at North Gwinnett
Friday, Sept. 4
5:30 p.m.: Kell at Walton
8:30: p.m.: Parkview at Mill Creek
Saturday, Sept. 5
11 a.m.: Carrollton at Collins Hill
2 p.m.: Lowndes at Archer
5 p.m.: Denmark at Greater Atlanta Christian
If you have any questions, please email Graham David at gdavid@scoreatl.com