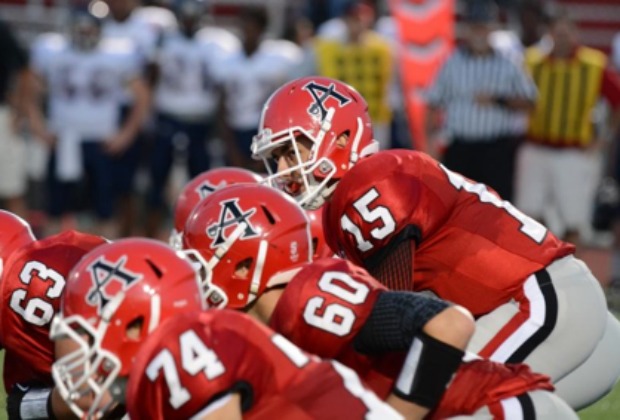 Allatoona HS Football
-Mays' win over M.L. King Saturday may have flown under the radar due to the timing of the game, but it was an important result for Region 6-AAAAA. The Raiders are now in first place with a 2-0 region record. The season-opening loss to Carver-Atlanta now looks as shocking as any upset yet this season. If they play the way they did Saturday, the Raiders look like a good bet to be 7-1 heading into a Nov. 2 matchup with Stephenson.
-I never thought I'd say this, but poor Brookwood and Parkview. The two Gwinnett programs that dominated the state in the 90s and into the 21st century now hold 0-3 records. Granted, each team has faced a difficult schedule thus far and has had crucial injuries, but we are not used to seeing Mark Crews and Cecil Flowe teams with records like that. The good news is that the two old rivals meet on Sept. 27 when one of them HAS to win.
-Carrollton gave up 46 points in a humiliating loss at Calhoun last season, a program two classes below the Trojans. But coach Rayvan Teague's team played tremendous defense Friday night in waxing the visiting Yellow Jackets 42-7. Carrollton is now 3-0 and has given up an average of seven points per game. Region 5-AAAA play starts in two weeks, and Carrollton looks like it will be undefeated going into a Nov. 1 meeting with No. 1 Sandy Creek. That one should be fun.
-Kudos to the Walton Raiders for getting off the proverbial schneid after a rousing 28-13 win over No. 4 North Cobb. Coach Rocky Hidalgo's team had taken losses to Peachtree Ridge and Hillgrove to start the season, defeats that now look pretty respectable as each of those teams is now ranked. The Raiders appear to again be a favorite for the Region 5-AAAAAA title.
In a bit of disturbing news, however, reports of a post-game brawl between the Raiders and Warriors ruined the mood in Raider Valley Friday night. As if that weren't enough, Walton's fieldhouse was broken into during the game and valuables such as laptops, Ipods, cell phones and wallets were stolen.
-Look at the mighty Coffee Trojans. Known as a perennial also-ran in the highly-competitive Region 1-AAAAAA race, coach Robby Pruitt has seemingly turned them around in two years. The Trojans have beaten three quality opponents (Whitewater, Ware County, Burke County – granted, all from 4A or 5A) so far and have entered the Class AAAAAA top 10. Coffee will be a team to watch in Region 1 this year and is one of the biggest surprises thus far in the season.
-Kell has been as impressive as anyone in Class AAAAA this season and came up big Friday night against Class AAAAAA-power Lassiter. The Longhorns rumbled to a 20-3 lead in the second quarter and never looked back. Coach Derek Cook's team has now beaten three 6A teams in a row, all by double digits. Based on their remaining schedule, the Horns look like a near-lock to finish the regular season 10-0.
-Allatoona has cruised to a 3-0 start and has won each of its games by at least 31 points. Elite Junior Classic running back Josh Bettistea ran for 216 yards and four touchdowns. Bucs' coach Gary Varner has done a tremendous job at the northwest Cobb County school in leading it to a 41-15 record in its five varsity seasons, but this may be Varner's best squad yet.