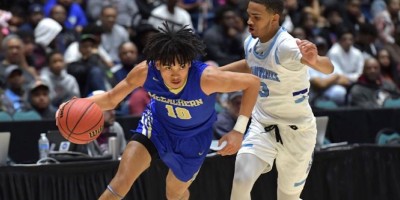 The 31st episode of the "Georgia Prep Sports: From a Distance" video podcast features McEachern boys basketball coach Mike Thompson, who led the Indians to their first basketball state title in school history during the 2019 season. Thompson will discuss the recent decision by the GHSA to begin implementing a 30-second shot clock in all high school basketball games throughout the state by the 2022 season.
Host I.J. Rosenberg, the president of Score Atlanta, will also have Glynn Academy football coach Rocky Hidalgo, who will break down the steps being taken to limit the spread of Covid-19 after one of his players contracted the virus. Also joining the show will be Dacula head football coach Clint Jenkins, who has won back-to-back region titles with the Falcons and will play in the upcoming Corky Kell Classic.
The podcast is produced by PlayOn Sports, which runs the National Federation High School network, and airs Mondays, Wednesdays and Fridays, starting at noon.
Follow the LINK to watch!