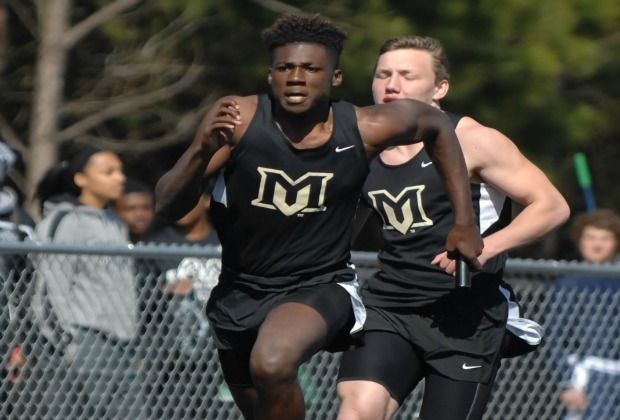 Sonny Kennedy
Mill Creek edged second-place Hillgrove to take the Class AAAAAA team crown over the weekend at the Georgia Olympics in Jefferson. It is the fifth consecutive boys track and field title in the state's largest classification for a Gwinnett county school and the first ever for Mill Creek.
In the 1600, Mill Creek's Tyler Woodrome earned 10 points by finishing ahead of Walton's Kenan Farmer and Brian Sullivan with a 4:14:85. Hawks teammate Michael Cheeks finished first in the 200 meters with a 22.01. Cheeks anchored the 4×400 with Allen Eckles, Braden Canamare and Woodrome taking the fastest time at 3:24:22.
McIntosh claimed the team title in a tight Class AAAAA with 40 points over second-place Cedar Shoals' 38. Sidney Speir gave the Chiefs 10 points by clocking a championship time of 9:30:26 in the 3200 meters. Taylor Huntley crossed first in the 800 meters at 1:55:97, beating Richmond Hill's Corey Jones, who finished right behind him at 1:56:05. Brooks Hardy took third in the shot put with 49-01.00 and the discus throw with 144-08. Brad Hort finished second in the 1600 at 4:19:58 behind Pope's Patrick Fleming who took first with a 4:15:58.
Marist dominated Class AAAA beating second-place LaGrange 71-38 in total points. Eagle's Landing finished third at 34. Daniel Navarro gave Marist first in the 3200 meters with a 9:21:70. Marist's Kenneth Brinson dominated the discuss with throw of 179-01.
St. Pius X proved its dominance by scoring 85 points to win the Class AAA team title. The Lions' Fred Dorsey jumped 45-05.00 to win the triple jump. Teammates Austin Sprague and Calvin Tirell had a one-two finish in the 1600 meters, with Sprague posting a 4.19.88. In the 100 meters, just one one-hundredth of a second separated first and second. Andrew Slanton from Sonoraville clocked an 11.02, and Jamal McDaniel of Chapel Hill clocked an 11.03. The Lions found success in the 3200 meters as well with Andrew Anastasiades coming in at third and Sprague finishing first with a 9.24.57. Sprague was no match for the rest of the field in both his state titles.
In Class AA, Westminster earned a team title with a 72-62 total lead over Brooks County. The 800 meters earned Westminster 18 points after Jag Gangemi claimed first with a 1:58.48, and teammate Austin Dhillon finished second with a 2:00.73. Gangemi also finished third in the 1600 meters and teammate Jordan Flowers clocked a 4:24.45 to take first. The Wildcat's Cameron Seward took third in the 110-meter hurdles.
Commerce's 58 points prized first in a Class A-Public, ahead of Terrell County (52.50) and Claxton (47.50). Micah Eason took the shot put title with a 48-2.50 throw and Commerce teammate Dekerrio Ramsey added 10 more points with a first-place finish in the triple jump at 44-02.00. Ramsey also took second in the long jump with 21-01.00, ran the third leg of the 4×100 meter for a second-place finish, and finished second in the 400 meter dash with a 50.75.
Athens Christian ran away with the Class A-Private title with a total 122 points, beating Darlington's 57.50 and Landmark Christian 59.50. Justin Brooks and Josiah Brooks finished second and third in the 200 meters for the ruthless Eagles. Justin finished second in the 400 meters and Josiah finished fourth. In the triple jump, Josiah finished second behind teammate Demetrius McWhorter who jumped a 43-02.50. Teammate Tae Carruth finished second in the 110 meter hurdles with a 15.83 behind First Presbyterian Day's Christian Moore 15.76. Jordan Pickerel took first in the shotput and fellow Eagle Joseph Ruggiers took third. Pickerel took first in the discus as well with a 168-01. McWhorter also scored points with a second-place finish in the high jump and fourth in the long jump. Levi Cummings capped off a big weekend for the Eagles by winning the Pole Vault with a 14-00.00.