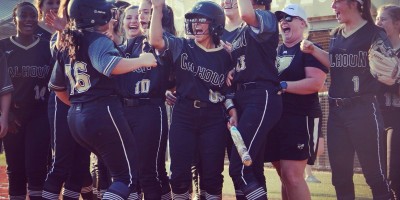 Calhoun Softball Twitter
It was a busy Monday night across the state as the first-round of the GHSA softball playoffs and several postponed football games took place. On the volleyball court, there were even a few region seeds being finalized as the playoffs will begin on Saturday.
In football, Dodge County relied on two quick touchdowns before halftime and two back-to-back interceptions in the fourth quarter to keep Washington County at bay and hand the Golden Hawks their first loss of the season.
After a scoreless first quarter, quarterback R.J. Carr, a 5-foot-11 senior, rushed for his tenth touchdown of the season with two minutes left before the half. With under a minute left in the first half, sophomore Mikhail Carr broke free and scampered for a 56-yard touchdown. Preston Bush, who converted both of the extra point attempts on the night, added field goals of 37-yards in the third quarter and 34-yards in the fourth quarter to extend the lead.
With 10 minutes left in the game, Washington County quarterback Preston Daniels passed to Trent Boss which pulled the Golden Hawks to within 11 points, 17-6. However, Washington County's attempt at a comeback was thwarted by two interceptions by senior corner back Keshawn Smokes late in the quarter.
Dodge County, which lost to Dublin in upset fashion last week, moves to 7-1 and 3-1 in 3-AA.
In softball action, Worth County, the No. 3 seed from Region 1, advanced to play Long County after winning a deciding Game 3 against higher-seeded Pike County, 2-0. Starr's Mill blew out Wayne County 10-1 in Game 3 to earn a second-round game against defending champion Locust Grove.
See the rest of the Monday scores below.
Football
Appling County 34, Liberty County 0
Bleckley County 56, East Laurens 21
Brooks County 39, Early County 20
Dodge County 20, Washington County 6
Dooly County 44, Crawford County 19
Softball
Appling County 7, Islands 1
Cherokee 5, Colquitt County 3
Colquitt County 8, Cherokee 0
Etowah 8, Lowndes 0
Fitzgerald 13, Westside-Augusta 1
Fitzgerald 6, Westside-Augusta 1
Lowndes 1, Etowah 0
Savannah Christian 9, Strong Rock Christian 7
Strong Rock 10, Savannah Christian 0
Starr's Mill 10, Wayne County 1
Worth County 2, Pike County 0
Volleyball
Brooks County 2, Chatthoochee County 1
Columbus 3, Northside-Columbus 0
Thomasville 2, Early County 0