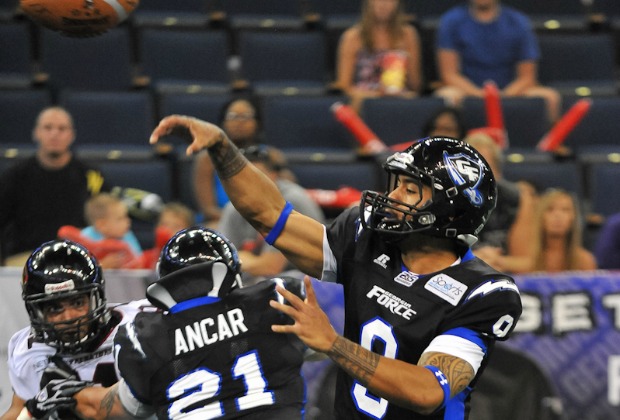 Georgia Force
Bryant "Mo" Moniz did not get his first snaps with the Georgia Force until Week 16 of the 20-week regular season. The Force were in desperate need of a starting quarterback when former starter R.J. Archer went to the Detroit Lions after Week 15. With little warning, it was Moniz's team and he would have to lead Georgia into the postseason without ever playing in an AFL game.
This would not be the first time in Moniz's football career that he quickly leapt into the starting role. Moniz went through a similar situation during his career at the University of Hawaii. Before Moniz became a three-year starting quarterback for the Warriors, he was just a walk-on fighting for a roster spot. He joined the team in the January before the 2009 season, and when Brent Rausch and Greg Alexander got injured Moniz jumped from the third string to starting quarterback. Moniz did so well in his audition that he was put on scholarship and would clinch the starting job for his remaining two seasons.
Moniz tallied up 10,146 passing yards, 75 passing touchdowns and eight rushing touchdowns during his career at Hawaii, but it would not be enough to get him drafted in the 2012 NFL draft. Leading up to the draft, Moniz continued to heal from a broken tibia that had ended his senior season early. Moniz could only perform abbreviated workouts for NFL scouts and was left waiting for someone to take a chance on him.
"It wasn't how I had planned on ending my senior season," said Moniz. "I thought I would play in our bowl game and immediately start prepping for the NFL and working out for scouts."
One untimely injury had set Moniz's incredible football journey adrift before the Force picked him up in May and reawakened his football career.
"Senior year is the last time a lot of guys ever get to play football," said Moniz "I badly wanted to keep playing football though and I cannot tell you how good it feels to be playing again."
Moniz has been outstanding in his first two starts with the Force. Moniz took over a struggling Force offense that ranked No. 16 out of 17 teams in total offense, and, in just two starts, the productivity has increased.
In his first start, the Force had to take on the Utah Blaze, owners of the league's No. 2 passing attack this season.
"Utah is a very good team, and it was nice to face such a good team right away," said Moniz. "I was able to learn a lot from it."
The Force and Moniz were no match for Blaze quarterback Tommy Grady's brilliant eight-touchdown performance, and it revealed to Moniz what would be needed in order to keep pace in this league.
The loss intensified the division race, and a win in Moniz's second start against the Orlando Predators was necessary if the Force were to challenge in it. Moniz entered a quarterback battle with the Orlando Predator's Chris Leak, who led the Florida Gators to the 2006 BCS National Championship. In a back and forth scoring battle between Leak and Moniz, the Moniz-lead offense was unstoppable all game and edged out the Predators 56-53.
Moniz hit 21-of-29 pass attempts and went for seven touchdowns with zero interceptions. In his first two starts Moniz has combined for 10 touchdowns without a single interception.
"Coach [Cokinos] told me how costly turnovers are in the arena game, so I have just done what I could to not make the bad plays worse plays," said Moniz.
Moniz credits his experience as a walk-on for enabling him to take advantage of this opportunity so far and find success.
"Walking on has helped me in life," said Moniz. "It made me realize that my route to success would often be longer than other people, and I just have to always keep working."
The effectiveness of the receivers since Moniz stepped in has been a story in itself. Shay Hodge in particular has been exceptional and the Hodge-Moniz connection stemmed from their rehearsals on the practice squad.
"We worked on the practice squad together when we first got here, and we developed a good timing with one another," said Moniz. "We learned the arena game together and he is just a great receiver."
Hodge was a mid-season addition to the Force like Moniz and came in from the Cincinnati Bengals. He recently left Ole Miss where he holds their all-time record for receiving yards at 2,646 with 22 career touchdowns. The Hodge-Moniz duo has connected for five scores so far, four in the Orlando victory.
Wide receiver Larry Shipp leads the Force with 29 total receiving touchdowns this season and has caught a pair of scores from Moniz.
"Shipp and Shay have given me a lot of pointers since I've been here, and we have a good understanding of each other on the field," said Moniz.
C.J. Johnson and Michael Johnson have also been recipients of Moniz touchdowns.
The Force are going to need these receivers to continue to elevate their play and and Moniz could finally provide the formula to do so. The Force lost a tremendous talent from last year in Maurice Purify. Purify, who plays receiver for the Arizona Rattlers, was the 2011 AFL Rookie of the Year while with the Force. He hauled in 129 catches, 1,654 yards and 46 touchdowns during the 2011 season. Purify continues to flourish, and even after he missed three games following a minor knee surgery, he has gone for 102 catches, 1,650 yards and 40 touchdowns in his 13 starts with the Rattlers this year. Purify, like Hodge, came to the Force from the Bengals practice squad, so only time will tell if the two are destined for the same level of success.
Moniz has two games to play before the postseason begins. The Force will play their last home game of the regular season Saturday night against the Pittsburgh Power. The Power are only 4-12 on the season but are the No. 1 team in the league in pass defense. This will be a test for Moniz and his core of receivers.
In the following and final week of the season, Georgia goes down to New Orleans to face the Voodoo where the team could grab the division title and home field for at least the first round of the playoffs with a win. The Force and Voodoo are both currently sitting atop the division at 8-8.
The Force are coming off their bye week, and Moniz is prepared to continue the success.
"This was a great time for us to have our bye week. We have gotten some guys back from the IR and will be healthy and prepared to finish the regular season strong," said Moniz.
If Moniz continues to improve and show the full arsenal at quarterback the future looks to be great for the former walk-on.
"For now my goals remain one week at a time, and it is going to be all about Pittsburgh now and New Orleans next week," said Moniz. "As a quarterback I've got to focus on the short term goals."
Moniz recognizes that by conquering these short-term goals he could ultimately be paving the steps towards achieving his long-term goal of being an NFL quarterback.
"My dream has always been to be an NFL quarterback, but it goes back to my walk-on mentality," said Moniz. "I am going to continue focusing on improving each day and always preparing to play my best. No matter what level it is [NCAA, AFL or NFL] football is football and it's a game of throw and catch for me. In the end, I just want to keep playing this game for as long as I am able to."
Moniz will lead the Force into the decisive and final two weeks of the season with hopes to continue what has been a defining moment in his football career.